Airbnb opens its doors in Cuba to licensed US travelers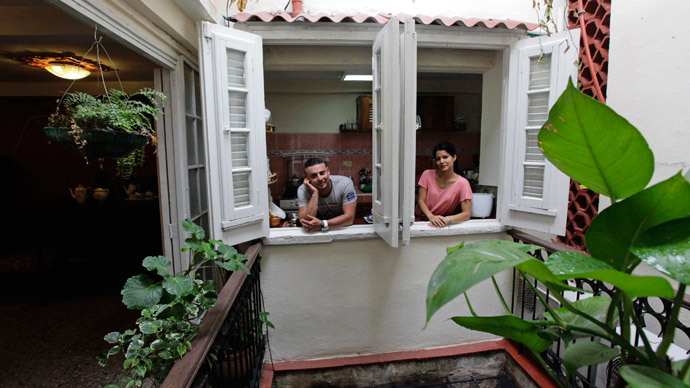 Americans licensed to travel to Cuba thanks to an opening of US-Cuban relations can now use Airbnb to book their lodging on the island, the company announced. US tourists are not able to get licenses yet, while international visitors can't use the site.
Airbnb is an online marketplace that connects members to book lodgings in private residences with people looking to rent out their homes in that location. The rentals can be a shared room, private room or the entire place.
Visitors searching the Airbnb site can choose from over 1,000 accommodations in Cuba, with 40 percent of the available properties in Havana. The rest are in tourist destinations such as Cienfuegos, a city on the southern coast, or Trinidad, a UNESCO World Heritage Site in the center of the island. Prices range from $27 to $1,000 per night, with the average price of $47 in Havana.
READ MORE: Cuban tourism skyrockets in wake of US push to rekindle ties
"Hospitality isn't a commodity in Havana ‒ it's a way of life. Cubans have been welcoming visitors into their homes for decades," Airbnb wrote in its announcement. "Casas particulares ‒ a network of private homestays ‒ have been a popular choice for visitors, as well as an important source of income for thousands of Cuban families."
"Because we're building on the rich Cuban tradition of home sharing, we're uniquely positioned to help Cubans reap the rewards of economic growth while preserving their unique culture," the company continued. "When Airbnb guests stay in local neighborhoods, they bring business to surrounding entrepreneurs ‒ whether they be hosts, artists, or even ice cream shop owners."
Airbnb believes that, because its model is so similar to that of the casas particulares, Cuba will quickly become a popular destination.
"We believe that Cuba could become one of Airbnb's biggest markets in Latin America," said Kay Kuehne, regional director for Airbnb. "We are actually plugging into an existing culture of micro-enterprise in Cuba. The hosts in Cuba have been doing for decades what we just started doing seven years ago."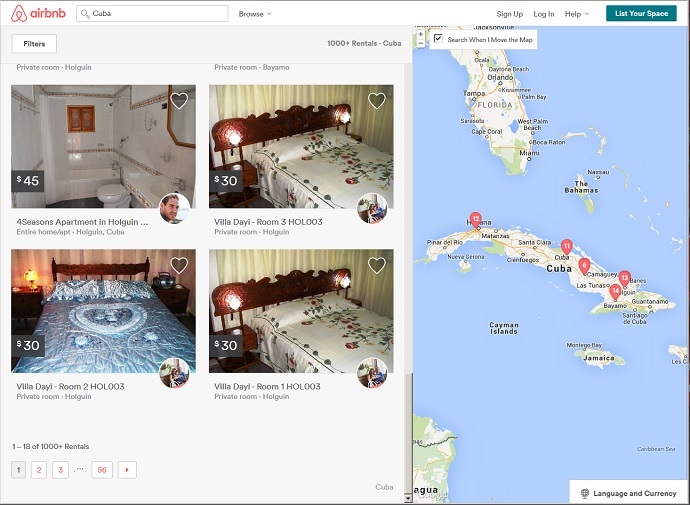 Airbnb doesn't have to build anything or invest a significant amount of money before opening its doors, so to speak, in Cuba. Thus, the company "is ideally placed to take advantage of newly-relaxed restrictions on doing business in Cuba" because of its "arms-length distance from any actual property," Quartz's Tim Fernholz wrote. "As a platform company, it connects customers to people with real estate to sublet, but doesn't get involved with too many questions about that real estate and who owns it."
Because Airbnb doesn't investigate ‒ or care ‒ who owns the properties it lists, the company is able to skirt the major issue preventing many businesses from investing in Cuba, according to Fernholz. Executives say that their major obstacle is competing claims for damages related to the communist government's seizure of US properties in Cuba after Fidel Castro took power.
But the company could also face its own unique challenges because of how it operates as a middleman between host and visitor, travel writer Simon Calder told the BBC.
"While Airbnb is a valuable alternative for millions of travellers, in the context of Cuba, because of the high margins it takes from every transaction, it won't necessarily meet with great success," Calder said. "All the Cuban bed-and-breakfast providers I know would like to keep all the money rather than handing 15 percent or more to an American corporation."
READ MORE: Havana calling: US, Cuba re-establish direct undersea telephone cable
Yet some Cubans say that they will take Airbnb's commission into account when setting prices.
"I think this is going to help our business prosper, to definitely improve, not just private business, but everything here," Israel Rivero, who owns an immaculately renovated, pre-war apartment in central Havana, told AP. He charges $25 a night per room, but the price will go to $30 on Airbnb to cover fees and currency exchange costs.
The biggest problem for Airbnb in Cuba, however, is likely to be the lack of internet on the island.
"Anybody who has used the internet in Cuba will know that a prospective host is unlikely to be able to respond immediately given the shockingly slow internet there, which reminds me of what you used to find across the developing world in the early 1990s," Calder said.
There are only 5,300 broadband internet accounts on the island, most of which are not in homes. Internet cafes in Cuba charge an average of $4.50 per connection.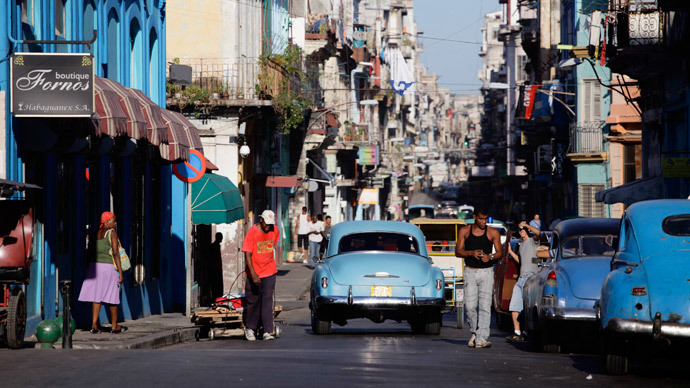 Airbnb isn't the only American company expanding into Cuba that is hampered by slow internet speeds or a lack of access to the utility. Netflix began its streaming service in Cuba in February, a move that Freedom House, freedom of speech campaign group, called "a symbolic announcement," a description the company seemed to agree with in its statement unveiling the news.
Netflix "will offer a broad range of great global entertainment to Cuban consumers as Internet access improves and credit and debit cards become more widely available," the company wrote. "Starting today, people in Cuba with Internet connections and access to international payment methods will be able to subscribe to Netflix and instantly watch a curated selection of popular movies and TV shows."
Netflix also faces issues in Cuba because the average wage there is $17 a month, according to the most recent data released by the National Statistics and Information Bureau. The streaming service is charging Cuban subscribers $7.99 a month.