Los Angeles officials settle Occupy LA claims stemming from violent eviction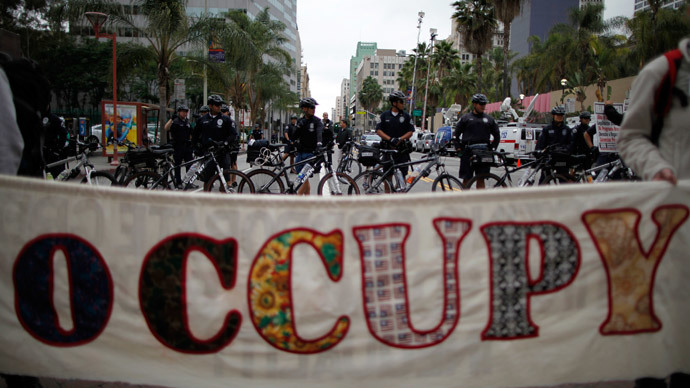 The Los Angeles City Council has agreed to settle for $2.45 million all claims levied by Occupy LA protesters arrested during a violent, "shock and awe" removal from an encampment near City Hall in November 2011.
Despite the city council's approval, the deal has to get final ratification from a US District Court judge, the Los Angeles Times reported, quoting Frank Mateljan, a spokesman for the city attorney's office.
The settlement comes in response to lawsuit filed in December 2012 by six Occupy LA demonstrators. They allege the Los Angeles Police Department (LAPD) used "shock and awe" military tactics to violently remove hundreds of protesters from their campsite just south of City Hall in downtown Los Angeles. The claimants say police action violated demonstrators' "First, Fourth and Fourteenth Amendment rights to assembly, association, freedom from unlawful seizure and liberty."
Around 300 arrests were made on the night of November 30, 2011. The lawsuit stated protesters were denied basic rights, such as access to water or a bathroom. They were forcibly handcuffed and detained for up to seven hours.
Two months before the aggressive eviction, the city council passed a resolution stating support for Occupy LA's 24-hour-a-day protest. It was part of the nationwide Occupy movement, the core of which was motivated by increasing income inequality.
READ MORE: Occupy Wall Street volunteers defend Ferguson protesters in court
But city leaders eventually reversed course, posting signs near the encampment saying the City Hall lawn must be cleared at night based on city park regulations.
"There was no process by which this decision was made other than executive fiat," the lawsuit claimed.
READ MORE: Lurking within tent: Undercover cops in Occupy LA camp prior to raid
Mayor Antonio Villaraigosa ordered the camp cleared by midnight, Nov. 28. Thousands of protesters ignored the ban, leading to the violent, pre-dawn confrontation with around 1,400 riot-gear-clad, militarized LAPD officers tearing through the space.
"It's incredible to me that at this point in time that the LAPD was trying to teach people a lesson for engaging in civil disobedience," said Carol Sobel, an attorney for the plaintiffs, when the lawsuit was filed.