Occupy Wall Street volunteers defend Ferguson protesters in court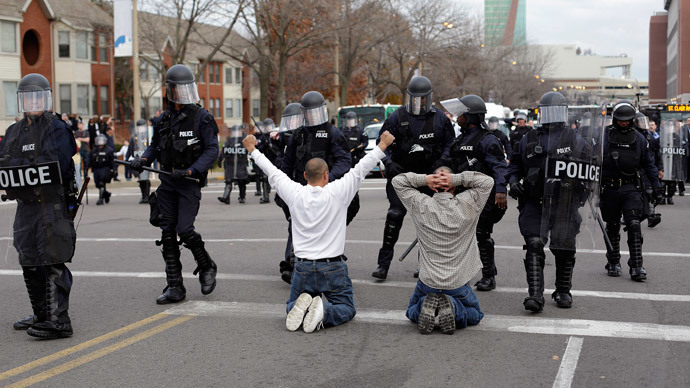 Building on experiences and strategies borne, in part, from the Occupy movement, lawyers, and legal volunteers from across the nation have coalesced to represent and assist protesters arrested amid civil unrest in Ferguson, Missouri.
Led by a local group - Arch City Defenders, which was originally established to provide free legal representation to poor residents in the St. Louis area - and backed by a cadre of national organizations, this network of legal experts, law students, and volunteers have amassed a formidable support system for the hundreds of people arrested in Ferguson after the fatal shooting on Aug. 9 of unarmed black teenager Michael Brown by white police officer Darren Wilson.
Last week, a grand jury opted not to indict Wilson for Brown's murder, setting off a new round of rage in Ferguson and nationwide over racial discrepancies within the American justice system and consistent police brutality seen in communities from coast to coast.
Members of this network point to the Occupy Wall Street protests of 2011 and demonstrations during the 2004 Republican National Convention - both instances of civil disobedience and mass arrest - as valuable precursors to current action in Ferguson.
"Occupy Wall Street is the gift that keeps on giving," said Wylie Stecklow, a New York attorney whose law firm, Wylie Law, represented hundreds of people arrested in New York amid Occupy Wall Street protests.
Stecklow told Reuters that protester arrests surrounding the Occupy movement taught him best practices in how to centrally fund bail payments and how to represent many protesters at once.
Legal experts and volunteers in this network, currently working in Ferguson and remotely outside of the St. Louis area, execute a variety of tasks needed to assist protesters. They are: working as legal observers during demonstrations, documenting arrests at protests, acting as witnesses to events if arrests lead to charges for any protester, waiting outside jails for arrestees to be released, and, upon release, helping them get legal representation or advice for their upcoming court dates.
The network operating with the Arch City Defenders includes local and national organizations such as the American Civil Liberties Union, the Center for Constitutional Rights, Millennial Activists United, Missourians Organizing for Reform and Empowerment, the National Lawyers Guild, and Organization for Black Struggle. These groups, among others, have come together to form the Ferguson Legal Defense Committee.
"We are looking for politically-conscious lawyers, legal workers and law students who will respect the leadership of local activists/organizers and who are willing to think creatively and collectively about how the law can be used to support the Ferguson movement," the Committee says on its website in its call for legal volunteers to assist with their project.
"There's a huge apparatus of invisible people working on this," Purvi Shah, of the Center for Constitutional Rights in New York, told Reuters.
Shah said there are more than 100 lawyers pitching in to help from outside St. Louis, as 10 or 15 people work the ground shifts to assist protesters. These numbers do not include law students and recent law school graduates volunteering in Ferguson.
The 300 or so people who have been arrested as part of civil unrest since Brown's murder in August have faced charges such as unlawful assembly, trespassing, interfering with police activity, and resisting arrest. Some have also faced more serious felony charges, such as second degree burglary, arson, assault, and unlawful possession of a firearm.
Many arrested shortly after Brown's shooting are set to appear in court in January, while many others arrested last week after the announcement of the grand jury's decision not to indict are still in jail, unable to post bail.
"Having a mass defense coordinating efforts is the best way to do things because you've got lawyers and paralegals sharing information," Martin Stolar, another New York lawyer who represented protesters arrested during the Occupy movement, told Reuters.
"You can also tell the prosecutors, 'You should dismiss all of these cases unless you can go through and prove every individual one is valid.'"