Legislators call for US Treasury sanctions against dealers of looted Syrian antiquities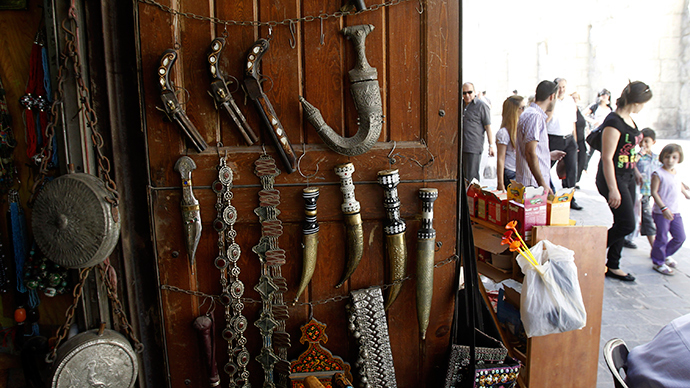 In an effort to curb a source of income for the jihadist Islamic State group, top US lawmakers have urged the US Treasury Department to craft sanctions against any illegal importation of cultural and historical artifacts stolen from Syria.
In a letter to Acting US Treasury Undersecretary for Terrorism and Financial Intelligence Adam Szubin, four ranking members of the US House Foreign Affairs Committee -- Reps. Ed Royce, Eliot Engel, William Keating, and Chris Smith -- said the impetus for the sanctions is to discourage what has become a funding source for the so-called Islamic State (IS formerly ISIS/ISIL).
"By adopting these restrictions, the United States would close our markets to the trafficking in historical artifacts that helps fund the Islamic State of Iraq and the Levant (ISIL), the barbaric terrorist group that continues to occupy large swaths of Syria and Iraq," the congressmen wrote.
"To date, our efforts to eliminate ISIL's sources of funding have focused primarily on preventing oil smuggling and denying ransoms demanded for kidnapping. However, a comprehensive effort must also cover looting and trafficking of cultural property, which has become a significant source of funding for ISIL and other terrorist organizations."
READ MORE: ISIS jihadists demolish mosques, shrines in northern Iraq (PHOTOS)
Earlier this month, Rep. Engel introduced the Protect and Preserve International Cultural Property Act, which aims to "protect and preserve international cultural property at risk due to political instability, armed conflict, or natural or other disasters, and for other purposes."
In their letter, the representatives called for the US Treasury Department's support of UN Security Council Resolution 2199, adopted in February to prevent the illicit trade of Syrian cultural artifacts.
The UN resolution stated that the Islamic State and other militant organizations in the region "are generating income from engaging directly or indirectly in the looting and smuggling of cultural heritage items from archaeological sites, museums, libraries, archives, and other sites in Iraq and Syria, which is being used to support their recruitment efforts and strengthen their operational capability to organize and carry out terrorist attacks."
#ISIS destroys ancient remains of 2,000yo city, #Hatra – Iraq govt http://t.co/YROOZTIYm4pic.twitter.com/MmoNOaSl4Z

— RT (@RT_com) March 7, 2015
In late February, the Islamic State posted a video online allegedly showing a group of militants inside a museum in Mosul, Iraq, using sledgehammers to destroy Assyrian-era statues and other artifacts, saying they are symbols of idolatry.
"This is a propaganda video that is intended as an act of heritage terror," Dr. Stephennie Mulder, an associate professor of Islamic Art at the University of Texas at Austin, recently told RT.
"[ISIS] know this kind of action will cause alarm in the international community," said Mulder. "It demonstrates their mastery over everything. Their mastery over the past and it has a deep impact on the people of Iraq as well who cherish these objects."
It was reported weeks later that at least some of the statues and artifacts shown destroyed in the videos were fakes. Mulder told RT that of about 60 artifacts shown demolished in the Islamic State videos, only six or seven were replicas.
You can share this story on social media: