Artifact destruction by ISIS is act of 'heritage terror' – Islamic art professor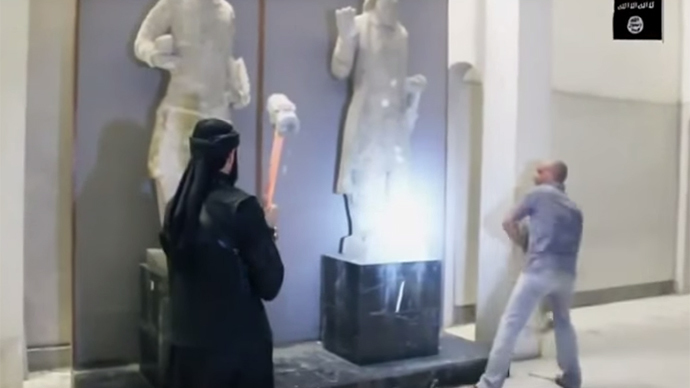 Whether they're authentic or not, videos of Islamic State militants destroying ancient artifacts at Iraq's Mosul Museum and elsewhere are "propaganda videos" meant as "heritage terror," an Islamic art professor told RT.
The videos show men with sledgehammers knocking over statues, smashing antiquities and torching ancient writing. But there are questions being raised about the authenticity of the videos, when it's known that the Islamic State (IS, formerly known as ISIS/ISIL) needs money to keep operating its terror campaign – and antiquities could fetch large sums of money on the black market.
Speaking to RT's Manila Chan, Dr. Stephennie Mulder, an associate professor of Islamic Art at the University of Texas at Austin, said the Islamic State's destruction of ancient artifacts in Iraq and Syria is an act of propaganda.
"This is a propaganda video that is intended as an act of heritage terror. [ISIS] know this kind of action will cause alarm in the international community," said Mulder. "It demonstrates their mastery over everything. Their mastery over the past and it has a deep impact on the people of Iraq as well who cherish these objects."
Bill in Congress Seeks to Reign in Trade by ISIS in Looted Antiquities http://t.co/1LaBStsEwz

— nyo 2 (@nyomedia) March 24, 2015
Mulder was an archaeologist in Syria for over a decade before joining the faculty at the University of Texas at Austin. The theft and destruction of antiquities was described by the UN as erasing the history of humanity, and Mesopotamia is described by many as the beginning of civilization.
"The place where the first cities began, the first alphabet," Mulder told RT. "Syria and Iraq is where the earliest synagogue, the earliest image of Christ, the largest collections of mosaics [are found]. I could go through time to the medieval Islamic period."
READ MORE: Ancient statues destroyed by ISIS fake, real ones safe – report
Mulder said Syria is home to six World Heritage sites and five have already been severely damaged. When asked about the authenticity of the videos, and whether the statues allegedly destroyed at the Mosul Museum were actually ancient since metal rods are seen, Mulder said the rods signify nothing.
"We know that there were about 60 different objects in the two galleries that were pictured in the video. Of those, six or seven were plaster replicas," said Mulder. "The question of the metal rods that has been raised is pretty simple to answer. Anyone who has done archeology conservation knows that ancient statuary is often held together using those metal rods."
Despite ISIS threat, looted antiquities are returning to Iraq: http://t.co/H0sETJKdew

— National Geographic (@NatGeo) March 24, 2015
READ MORE:US Marines tells troops to 'check online footprint' after ISIS 'hit list' goes online
Mulder said ISIS is getting a lot of attention for the destruction, but they are not the only ones behaving like this. She said soldiers from the regime of Syrian President Bashar Assad were caught on film looting objects from Daraa in southern Syria. She added there was evidence early on in the war that some Free Syrian Army fighters were looting from archaeological sites for profit, but they have since made strong gestures to join the international community in preserving the sites.
"No one is free of guilt," she said. "Though ISIS is getting a lot of attention, they are far from being the only actors here."
You can share this story on social media: