Firefighters contain huge blaze in NY on 66th & 1st, second fire in same night (VIDEO)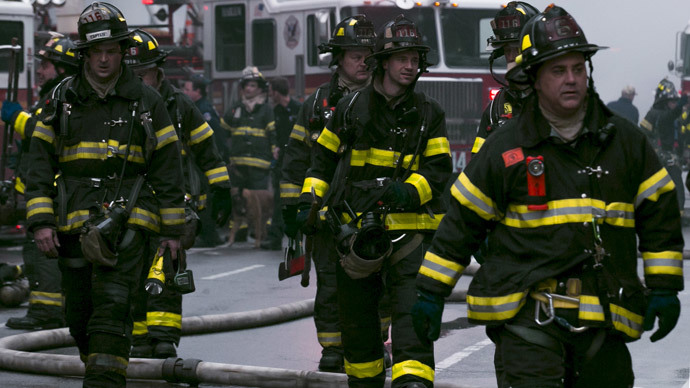 A huge fire started on 66th Street and 1st Avenue in New York, witnesses reported, posting pictures of the blaze on Twitter. Locals tweet that a newly-renovated Dunkin' Donuts was located in the building.
Firefighters managed to put out the blaze that started at the sixth floor of a residential building. Flames could be seen coming out of the top floors. No possible causes of the fire have yet been given, or any information as to casualties.
Another #nycfire on #UES tonight. Much respect to the #FDNY tonight for battling another building fire.

A video posted by Lynnette Blanche (@lsblanche) on Mar 26, 2015 at 11:24pm PDT
The Fire Department used at least two large cherry-pickers to get the firefighters closer to the blaze and eventually managed to get it under control, after blasting thousands of gallons of water to put out the fire.
Blasting the roof with water, finally seem to have gotten the flames out. #nyc #ues #66th #fire

A video posted by Stephanie Meyers (@therightsteph) on Mar 26, 2015 at 11:26pm PDT
MAN 3-ALARM 343 E 66 ST, MULTIPLE DWELLING FIRE ON 6TH FLR WITH EXTENSION TO COCKLOFT,

— FDNY (@FDNY) March 27, 2015
Huge fire on 66th and 1st... Twice in one day, New York? pic.twitter.com/83puCjW5IR

— potato giamatti (@Lily_Trotta) March 27, 2015
At first thought the smoke smell had drifted uptown, but too many sirens. Building has/had newly renovated Dunkin' Donuts #nyc#1stAve#66th

— Stephanie Meyers (@theRightSteph) March 27, 2015
Another big fire today in #nyc on 66th and 1st pic.twitter.com/5QZNJBawYM

— Stephanie Meyers (@theRightSteph) March 27, 2015
Another fire: Corner of E. 66th and 1st Ave in NYC. Photo by my daughter. pic.twitter.com/DWLV6M56xe

— Dee (@DAbitty) March 27, 2015
A massive fire tore through several buildings in New York City's East Village on Thursday, leaving at least 19 people injured, four of them in a critical condition. More than 200 New York firefighters arrived at the scene to tackle the blaze. It was thought to have been caused by a gas-related explosion that started at 121 2nd Avenue, though an investigation is still ongoing.
READ MORE: Manhattan inferno: Fire rips through East Village (PHOTOS, VIDEO)