'To neutralize, they shoot suspect 10 times' – ex-Philadelphia officer to RT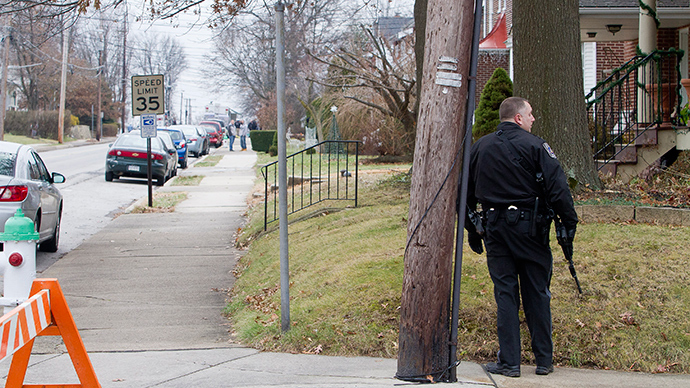 Fear, anger, hate, and sometimes a lack of proper training drive police officers to fatally shoot criminal suspects – even if they're armed with a screwdriver or a knife, human rights activist and former Philadelphia officer Grigory Krasovsky told RT.
Krasovsky pointed out that there are "problems in approach of police in encounters with African-American suspects" in the wake of the Department of Justice report that focused on police shootings and the reforms that need to be brought to officer training and the way cases are handled.
READ MORE: 'Poor training' resulted in almost 400 shootings by Philadelphia police – Justice Dept
Based on police officers' primary training, which involves cases of encounters with violent suspects, "you have to respond to the force that's being used against you by the suspect with commensurate force," lawyer and ex-police officer told RT.
However, what happens is that "police officers are disproportionately using lethal force by discharging their firearms against African-American suspects, who perhaps do not present a lethal threat to them."
He added that police shoot suspects who are armed with only a screwdriver or a knife or a stick, which is wrong because "police could have resolved and disabled the suspect without shooting him, in most cases."
But officer training is not the only issue at stake – so is accountability.
"What the last 20 or 30 years have shown is that any time a police officer uses lethal force and shoots or kills a suspect, even if he's wrong, chances are nothing will happen to him, and he will receive what we call "a slap on the wrist," he said.
READ MORE: Cop charged with fatally shooting unarmed man twice in back
The report demonstrated how investigations are handled "and what happens if the internal affairs bureau of the police department decides that the use of force was justified, or if the district attorney refuses to press criminal charges against the police officer. In Philadelphia, it would be extremely rare for the District Attorney's Office, which is extremely pro-police, to [do that] in the event of there being any doubt as to the justifiability of shooting a suspect," he said.
Krasovsky served as a Philadelphia policeman for several years and "had a number of suspects who threatened me with knives, with screwdrivers who tried to stab me." He described the way he dealt with those situations, and why many others didn't act in the same way.
"I didn't shoot any of those people. I disarmed them with my hands. Other police officers that I knew would have shot them – either because they didn't have enough training, or because they were afraid, or because they were angry or hateful, or resentful against African-American suspects – and that's a lethal combination," former policeman said.
He added that the same applies to vehicles, as suspects usually try to get away from police in their vehicle, and "there is a threat that you could be dragged by the vehicle."
However, Krasovsky noted that if he shot those vehicles every time, he would have killed several people.
READ MORE: Mark Duggan shooting: Officer cleared of 'any wrongdoing' amid police cover-up allegation
"I didn't do that because I didn't believe it was justified; to kill a person because they're trying to get away from you in a car, even if it's a stolen car," he said.
When asked why so many shootings result in the death of a suspect, Krasovsky said that police are trained to shoot at the suspect's torso.
"You shoot at the center of the chest – that's where the heart is – because that's the quickest way to neutralize a suspect. Unfortunately, neutralization will often lead to death," he said.
"And now, when police officers carry semi-automatic pistols that carry 15 or more bullets, they are not shooting at a suspect one, or two, or three times. One police officer will fire 10, 12 rounds," Krasovsky added.
Also, what matters is that not everyone has the option to use non-lethal weapons while encountering a suspect, he said.
"In other police departments, police officers carry mace, which is basically pepper spray, and it doesn't often happen in Philadelphia. More importantly, the Philadelphia police don't carry the Taser electronic stun guns. Only selected supervisors who have completed training carry Tasers, so a police officer doesn't even have an option of using a Taser stun gun on a suspect," Krasovsky added.
Already tense situations aren't helped by the hostile relationships between officers and high-crime communities.
"Residents of high-crime communities are already looking at police almost as occupants, as in those areas a very high percent of residents have either been arrested themselves, or have relatives who have been arrested and have criminal records. But more importantly, residents of those neighborhoods often know the true level of police brutality and excessive use of force by police, so that creates additional resentment and lack of trust," Krasovsky told RT.
You can share this story on social media: