Cop charged with fatally shooting unarmed man twice in back
Published time: 25 Mar, 2015 20:26
Edited time: 26 Mar, 2015 14:37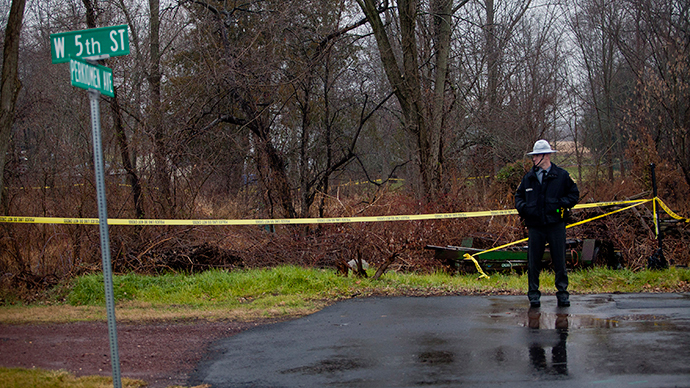 ​A Pennsylvania police officer is off the force – but free on bail – after being charged this week with homicide when the camera on her Taser captured her fatally shooting a man with her pistol as he laid belly-down.
The veteran officer, 36-year-old Lisa Mearkle of the Hummelstown Police Department, was charged on Tuesday with criminal homicide over the February 2 shooting death of David Kassick, 59.
Mearkle was released from custody after posting $250,000 bail, but was officially suspended by the law enforcement agency on Wednesday, her attorney told reporters, after 14 years with the department. She's expected to be back in court on April 20.
The cop's lawyer, Brian Perry, told a local Fox affiliate that his client shot Kassick last month in self-defense. District Attorney Ed Marsico has a different opinion, however, and says that video footage captured from a camera on Mearkle's Taser suggests otherwise.
Hummelstown Police Officer Lisa Mearkle charged with criminal homicide of an unarmed man: http://t.co/yE1WDo3bn6pic.twitter.com/TZ5KYHqDim

— WPMT FOX43 (@fox43) March 24, 2015
Last month's altercation occurred after Mearkle noticed that Kassick was driving an automobile with inspection and emissions stickers that had expired in December 2014. She began pursuing the man in her cruiser, and soon a foot chase gave way. Mearkle eventually fired her Taser at the man, "momentarily incapacitating him and causing him to fall to the ground," according to the criminal complaint filed against her this week, and then discharged multiple bursts from the weapon.
Kassick was apparently trying to remove the stun gun's prongs from his back when Mearkle, holding the Taser with one hand, opened fire with her department-issued pistol, according to the complaint.
"She felt like she had to do what she did," Perry told the Associated Press. "This person was being commanded, begged, 'show me your hands,' and he kept going to his waist."
According to Marsico, the district attorney, "the video clearly depicts Kassick lying on the snow covered lawn with his face toward the ground" when the officer unloaded.
"Furthermore, at the time the rounds are fired nothing can be seen in either of Kassick's hands, nor does he point or direct anything toward Officer Mearkle," he said.
"We have reviewed that evidence, which is frankly the best evidence in this case," Marsico said at press conference this week at Dauphin County courthouse in central Pennsylvania.
The criminal homicide complaint filed against the officer on Tuesday alleges Mearkle "intentionally, knowingly, recklessly or negligently cause[d] the death of another human being."
"Mr. Kassick is now dead as a result of a traffic stop, a routine traffic stop," an attorney for his family, Christopher Slusser, told AP. "He should not be dead. He should not have died as a result of that traffic stop. And the manner in which he was shot - you can infer from that what you will."
The complaint filed this week attests that "Kassick had not been physically aggressive towards Officer Mearkle nor did he subject her to any physical contact." Yet as he endured the stun gun bursts while on the ground, "Mearkle fired a single round from her pistol," according to the filing.
"At the time Officer Mearkle fired, Kassick was facing away from Officer Mearkle, flat on his stomach, and her point of aim was the center of his back," it continues. "After firing the first round, Officer Mearkle continued to give Kassick the verbal command of 'show me your hands.' While the [stun gun] was still activated, Officer Mearkle fired a second round from her pistol. Once again, Officer Mearkle's point of aim for the second shot was the center of Kassick's back."
Kassick was soon after pronounced dead, and a subsequent search of his body revealed he was unarmed during the altercation. According to the district attorney, an autopsy revealed that Kassick and drugs and alcohol in his system at the time of the incident.
On Wednesday, local media reported that Mearkle had been suspended from the force without pay, effective immediately in accordance with the Pennsylvania Confidence in Law Enforcement Act.