'Crisis level': Report says many govt. officials in US convicted of child porn, sex abuse crimes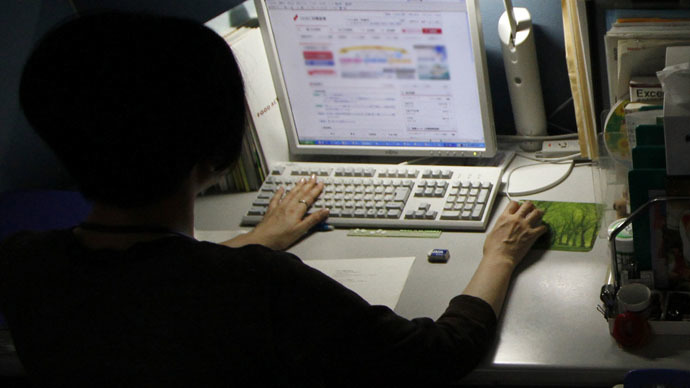 At least 22 local, state, and federal government officials in the US -- including leading military and police figures -- have been convicted of child pornography and child sex abuse crimes in recent years, according to a new report.
Using public records and news accounts, the Daily Beast reported Monday on the staggering epidemic of child porn, sex abuse, and violent rape crimes in Washington and beyond.
The most recent arrest occurred last month. Daniel Rosen, a senior State Department official, was caught soliciting sex online with a minor.
In January, the former acting director of cyber security for the US Department of Health and Human Services was sentenced to 25 years in prison after a child pornography conviction. Timothy DeFoggi, 56, engaged in a child exploitation enterprise tied to a secret online website where sexually explicit images of children were shared among members.
READ MORE: Former HHS cyber chief gets 25-year sentence in child porn case

DeFoggi "exchanged private messages with other members where he expressed an interest in the violent rape and murder of children" between March and December of 2012, prosecutors alleged.
The Daily Beast goes on to mention several cases: a former special agent with the Bureau of Diplomatic Security sentenced to seven years in prison for possessing about 30,000 images of child porn on his home computer; a foreign service officer given 20 years in prison for possession of child porn and videotaping sex with girls while he worked as a consular officer; a former CIA station chief in Algeria sentenced to more than five years in federal prison for drugging and raping a woman, among other offenses; and six former Homeland Security Department employees who are serving time in prison for crimes that include possession of child pornography, soliciting sex with minors, and human sex-trafficking.
In 2011, a US Army lawyer in Virginia pleaded guilty to raping an infant and producing and distributing violent images of child abuse.
In 2012, a police captain in Ganby, Conn., was sentenced to 10 years in prison for possession and trade of videos "horrifically depicted children being sexually abused by adults," according to a US prosecutor, including babies bound and tortured.
Writing for Medium, researcher Lori Handrahan has documented child sex crimes within the US military, US government, and beyond. She has observed that many officials are caught downloading child porn on their work computers, barely attempting to cover up their crimes.
Handrahan, among others, documented last year that David O'Brien -- a top nuclear scientist for the US government at Patrick Air Force Base in Florida -- was sentenced to five years in prison for child porn possession and distribution. O'Brien had "taken pictures of his granddaughter and placed images of her head over images of children being sexually abused. He also had pictures of Air Force employees transposed over sex abuse images."
The sad, sordid details continue, the scope of which authorities are unlikely to completely understand.
Handrahan has written that the US Department of Justice does not gather comprehensive data on child porn arrests, so it is unclear just how many government employees have faced such charges, or how many are even involved in the underground child porn industry.
"Child porn within our government agencies has reached crisis level," she wrote in a recent Medium post.
In September, US Rep. Mark Meadows introduced legislation, the Eliminating Pornography from Agencies Act, that would officially prohibit workers on Uncle Sam's payroll from browsing adult content on federal computers and devices.
"It's appalling that it requires an act of Congress to ensure that federal agencies block access to these sites at work," Meadows said in a statement.
READ MORE: Congressman wants to legally ban federal employees from watching porn at work

As the Daily Beast noted, the legislation has no co-sponsors among the 434 other members of the US House.
Earlier this month, CBS News reported that based on a detailed administrative process -- including a lengthy appeals system -- that is meant to protect against politically motivated firings, civil service terminations based on infractions such as viewing pornography at work are a rare occurrence.
One "top level" employee at the US Environmental Protection Agency has remained on the payroll despite being accused of "viewing porn two to six hours a day while at work, since 2010," CBS reported. Investigators found about 7,000 porn files on his computer, and even caught the employee watching porn on the job.
According to a 2012 Justice Department report, between 2007 and 2012, more than 11,447 people were convicted in US federal court for crimes related to the sexual abuse of a minor.
"These crimes have ranged from production of obscene visual depictions of minors engaged in sexually explicit conduct to receipt, distribution, possession, and/or production of child pornography to the direct physical, sexual abuse of a minor," the report said.
The Justice Department reported in 2010 that between 2005 and 2009, there was a 432 percent increase in child pornography films and files sent to National Center for Missing & Exploited Children for victim identification. In that time, 8,352 child porn cases were prosecuted, "and in most instances, the offenders used digital technologies and the Internet to produce, view, store, advertise, or distribute child pornography."
You can share this story on social media: