​DC to Denver flight disrupted by passenger yelling 'jihad, jihad' (VIDEO)
Published time: 17 Mar, 2015 19:20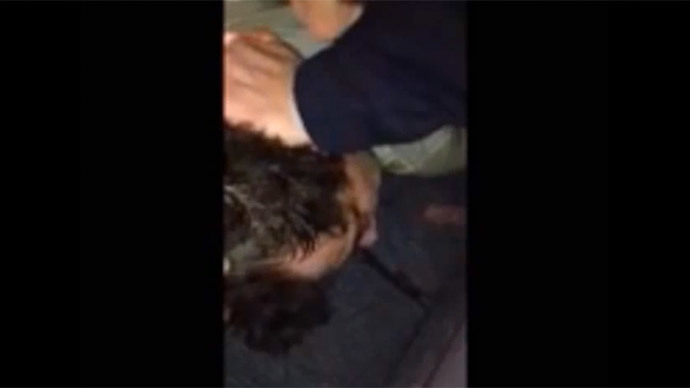 Chaos erupted on a domestic flight from Washington, DC to Denver, Colorado this week when a passenger reportedly ran towards the cockpit screaming "jihad, jihad."
Video footage recorded onboard United Airlines Flight 1074 on Monday evening shows the aftermath of the outburst as other passengers tried to restrain the unruly man.
"Please stop, please stop, they said call it off," the man is heard pleading on the recording as he's being restrained. "I'm so sorry."
"Don't move," another passenger fires back. "You're okay. We're going to get you off this plane, buddy."
The incident occurred only a few minutes after the plane departed Dulles International Airport on Monday evening, and it didn't take long for the aircraft's pilots to radio air traffic control requesting they be cleared to return.
"He ran forward towards the cockpit and he is being restrained by passengers," one of the pilots told controllers. "Cockpit is secure and we would like to return to the airport and have the authorities meet him."
United Airlines said that law enforcement met the plane when it returned to Dulles and detained the passenger, and a spokesperson for the airport said the man was taken to an area hospital to be evaluated. As of Tuesday morning, the passenger had not been arrested or charged with a crime, a spokesperson with the airport told CNN.
"One held his feet and the other one kind of laid on top of him and then the flight attendants went and got some plastic restraints for his arms," passenger Donna Tellam told ABC News. "At one point when his head was down he said there were jihadists in the cargo hold and he did say jihad a couple times."
Tellam said the event was "the scariest moment in my life."
"She's tough. She flies a lot ... but she's really shaken up," her husband, Curtis Tellam, told AP.
The Washington Post reported that 33 passengers were onboard Flight 1074, and that no injuries were reported.