Iran, Hezbollah left off US terror threat listing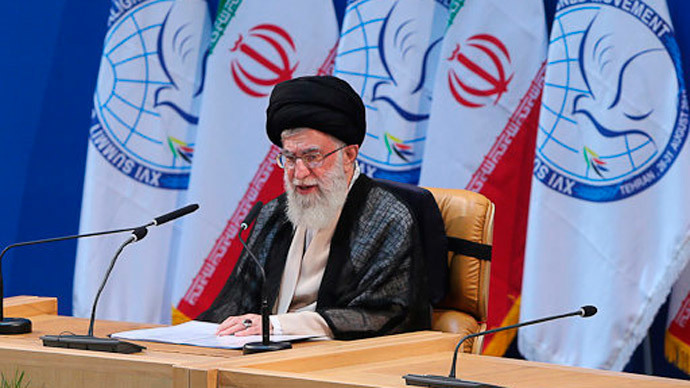 Iran and Hezbollah were left out of an annual terrorism threat assessment report offered in late February to the US Senate by Director of National Intelligence James Clapper. Iran and Hezbollah had been fixtures on the annual report before 2015.
Iran's efforts to fight Sunni extremists, including the so-called Islamic State (IS, also known as ISIL or ISIS), were touted in the unclassified version of the Worldwide Threat Assessment of the US Intelligence Communities, released recently.
While a US-led coalition has targeted Islamic State in Iraq and Syria, the report noted Tehran's push to keep "ISIL from gaining large swaths of additional territory" in Iraq. Iran is allied with both the Iraqi and Syrian governments. So, with the US, it has a common foe in Islamic State.
READ MORE: Poll finds most Americans support negotiations with Iran
In the Middle East, Iran has "intentions to dampen sectarianism, build responsive partners, and deescalate tensions with Saudi Arabia," the report noted, though it warned that some Iranian actions to "protect and empower Shia communities are fueling growing fears and sectarian responses," which could hinder regional stability.
Hezbollah, a Shiite group based in Lebanon and funded by Iran, has also fought Islamic State militants in both Syria and Iraq, though they are not part of the US-led coalition of 26 nations that has used airstrikes to counter Islamic State's sprawl in the region.
Both Iran and Hezbollah were included in the 'Terrorism' section of the 2014 version of the threat assessment report, which said both "continue to directly threaten the interests of U.S. allies. Hizballah [sic] has increased its global terrorist activity in recent years to a level that we have not seen since the 1990s."
Iran was included in the 'Terrorism' section of previous threat assessments, in 2011, 2012, and 2013.
READ MORE: Obama 'embarrassed' for GOP over Iran letter as criticism rises
The ongoing negotiations between Iran and the US, among other world powers, regarding Tehran's nuclear program are likely another reason Iran was not included in the threat assessment.
The National Intelligence report said Tehran has "overarching strategic goals of enhancing its security, prestige, and regional influence [that] have led it to pursue capabilities to meet its civilian goals and give it the ability to build missile-deliverable nuclear weapons, if it chooses to do so."
The report did not say whether Iran would seek nuclear weapons, but it did say that if Iran should decide to do so, it faces no "insurmountable technical barriers to producing a nuclear weapon."
Tehran's exclusion from the terror threat designation is part of Washington's strategy, Max Abrahms, a member at the Council of Foreign Relations, told Newsweek.
"I think that we are looking at a quid pro quo, where Iran helps us with counter-terrorism and we facilitate their nuclear ambitions and cut down on our labelling of them as terrorists," says Abrahms. "The world has changed. The Sunni threat has gotten worse, the Islamic State is a greater danger than Al-Qaeda ever was, and the Iranians have really come up big in terms of helping us out in combating the Islamic State."
READ MORE: Netanyahu tried to cancel Mossad briefing for US senators on Iran sanctions – report
According to the Times of Israel, Israeli think tank Meir Amit Intelligence and Terrorism Information Center pointed out that Iran and Hezbollah were considered terror threats in a separate report by the US Defense Intelligence Agency.
"Islamic Revolutionary Guard Corps-Qods Force (IRGC-QF) and Lebanese Hezbollah are instruments of Iran's foreign policy and its ability to project power in Iraq, Syria, and beyond,"the US Defense Intelligence Agency told the US Senate in an assessment also offered on February 26.
"Hezbollah continues to support the Syrian regime, pro-regime militants and Iraqi Shia militants in Syria. Hezbollah trainers and advisors in Iraq assist Iranian and Iraqi Shia militias fighting Sunni extremists there. Select Iraqi Shia militant groups also warned of their willingness to fight US forces returning to Iraq."
Meanwhile, talks regarding Iran's nuclear program are set to resume in Switzerland in the coming days. Little is known about the deal being negotiated, but leaked information over the past several weeks indicates that it would allow Iran to develop a civilian atomic program under strict supervision, which would make it very difficult to build a nuclear weapon.