Ban on armor-penetrable AR-15 ammo pushed to House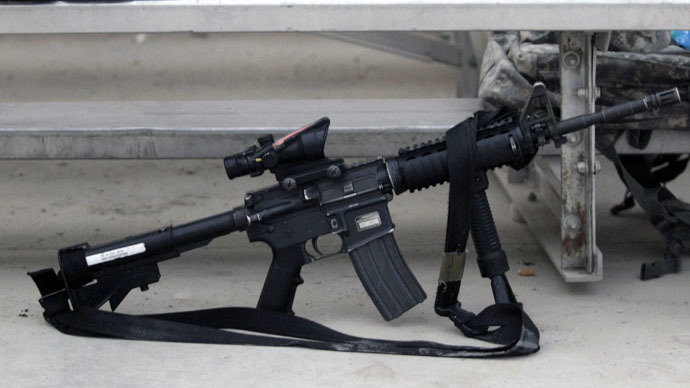 Billed as an effort to protect law enforcement, new legislation in the US House would bar the sale of a certain kind of ammunition that can pierce body armor. The measure comes after a federal agency's attempt at a similar ban was withdrawn this week.
Democratic Rep. Eliot Engel is expected to introduce on Friday the Armor Piercing Bullets Act following a rescinded proposal by the Bureau of Alcohol, Tobacco, Firearms and Explosives (ATF). The bill would restrict the sale of 5.56 mm projectiles for M855 cartridges often used in AR-15 rifles, according to The Hill.
"Armor-piercing rounds like green tips should only be in the hands of military personnel or police officers, period," Engel said. "There is absolutely no compelling argument to be made for anyone else to have access to them."
That 5.56 mm ammunition can now be used in handguns, according to the ATF, thus making the powerful projectile more of a threat to law enforcement.
"The out-of-touch gun industry lobby is fighting tooth and nail to keep cop-killing ammunition on the streets," Engel added. "We need to speak up on behalf of our police officers and say 'stop the madness.'"
Capitalism wins again: ATF Crumbles to Pressure From Gun Lobby on Armor-Piercing Ammo http://t.co/RthGKw9qDRpic.twitter.com/RyIJQOpkSK

— Occupy Wall Street (@OccupyWallStNYC) March 11, 2015
Despite the legislation, Democrats are still pushing the ATF to use its "existing authority" and revive its efforts at a prohibition on the manufacturing or sale of 5.56 mm ammo for M855 cartridges.
"We hope that the Bureau will swiftly review comments on the proposed framework and issue a revised proposal that will address the danger posed by handguns that fire 5.56mm and other rifle ammunition," Democrats wrote in a letter to the ATF.
The congressional Democrats said the ATF plan was consistent with improving the 1986 Law Enforcement Officers Protection Act, which aimed to ensure cops do "not face extreme safety risk from firearm technology."
READ MORE: Pennsylvania towns abolish gun laws to avoid lawsuits
"It is critical to update this legislation as new technologies are developed in order to keep law enforcement officers and our communities safe," they added in the letter. "That is why we urge you not to drag out this delay and to act swiftly to keep armor-piercing ammunition that can be used in handguns off the street."
ATF's plan was derailed earlier this week following an outcry from gun rights supporters, led by the National Rifle Association (NRA), and congressional Republicans who claimed the proposal would lead to further restrictions on Second Amendment rights.
We made DC listen! You spoke out & ATF decided not to follow through w/ "green tip" ammo ban. Keep speaking out! http://t.co/VOdHhpv7dq

— Ted Cruz (@tedcruz) March 10, 2015
"If law-abiding gun owners cannot obtain rifle ammunition, or face substantial difficulty in finding ammunition available and at reasonable prices because government entities are banning such ammunition, then the Second Amendment is at risk," said a letter signed by 53 Republican senators.
I am pleased with @ATFHQ decision to withdraw a proposed ban on ammunition used in the AR-15 rifle. http://t.co/pMk1IQJnf1

— Tom Cotton (@SenTomCotton) March 12, 2015
Prior to its reconsideration, the ATF got about 90,000 mostly critical comments on its 5.56 mm projectile proposal, The Hill reported, after the NRA encouraged members to weigh in.
ATF Director B. Todd Jones said during a Senate hearing on the agency's budget this week that the bullet ban was "good faith effort," and that the 5.56 M855 round is military surplus ammunition that he called a "a challenge for officer safety."
READ MORE:Newtown victims' families sue AR-15 gunmaker
"I want to make sure everyone understands that this was not — contrary to the blogosphere — an effort to completely ban that sort of cartridge," he said.
The White House would not comment Wednesday on the ATF proposal, The Hill reported, but press secretary Josh Earnest said President Barack Obama is still committed to gun safety laws.
READ MORE: Americans favor gun rights over gun control for the first time in 20 years


"The president's commitment to putting in place common-sense rules that will protect Second Amendment rights, but also prevent those who shouldn't have firearms from getting them, is as strong as ever," Earnest said.
Rep Rooney Introduces Bill Revoking ATF's Or Any Other Reg Agency Power To Regulate Ammo> http://t.co/rpihV5vy5U#2Apic.twitter.com/CVLmiO9CLV

— Leah (@LeahR77) March 9, 2015
You can share this story on social media: