​NYPD accused of targeting people who recorded chokehold death
Published time: 13 Mar, 2015 01:08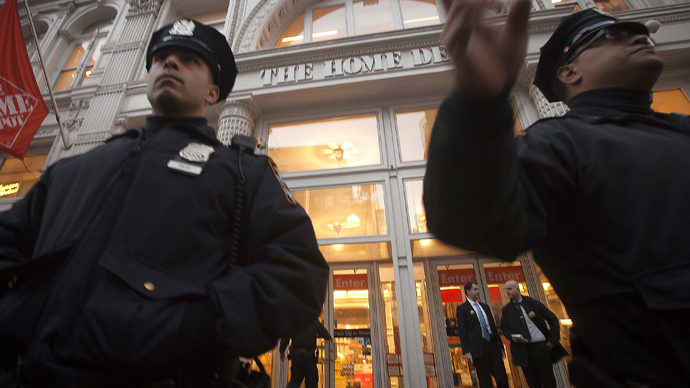 One of the two people who recorded the chokehold death of Eric Garner over the summer was arrested and beaten by officers from the New York Police Department, and believes she is being targeted for her role in the Garner case.
Not only has there been a target on her back since she posted the footage in July, but the NYPD used excessive force when arresting Taisha Allen two weeks ago, the Staten Island resident told RT.
Allen and her friend were in a park behind her building after dark ‒ which she admitted to WPIX is closed at night ‒ when officers approached her friend.
"He was being harassed by the police so I walked around and I asked the officer, like, what was going on, you know, he's not out here trespassing or loitering...I sent him to the store, he's out here visiting me," she told RT.
The officer told her to mind her own business, then said: "Oh wait, you're the girl who taped [the] Eric Garner case," Allen recalled. "And I was like, 'Yeah, but this doesn't have anything to do with the situation, so could you tell me what's going on?'"
The cop told her to walk away and to once again mind her own business, but then asked if she had ID.
"I said, 'No, you already said I was the girl from the Eric Garner case so you know who I am'...So then I said, 'Look, my name is Taisha Allen, I live right here...You know, I've lived here for 35 years, everybody walks through this park to get home at night time to get to their destinations, so it hasn't been a problem at any other time that I've lived out here,'" she said.
At that point, the officer said there was a warrant out for her arrest, which Allen denied.
According to Allen, the officer responded by saying "Well, yeah you do, and you're going to jail."
READ MORE: NY police trained to use new technique to subdue suspects
Allen tried to walk away at that point, but the officer wouldn't let her.
"That's when the officer grabbed me by my left arm and he threw me over the gate ‒ forcefully ‒ and then there was like three other officers on me. Next thing you know, more officers come, there's like five officers on me, and they got me over the gate and they take out their baton and they start beating me on my back with the baton, and I'm scared now, you know?" Allen told RT. "I'm really scared."
"So they beat me on the back with the baton, and then they dragged me from the gate, from the ground, from one side to the other, dragged me," she continued, adding that she was recovering from a broken ankle at the time, and had just had a cast removed.
"They didn't care. They still was beating on me like I was a man on the street," Allen said. "They was beating on me, they held me down on the ground. They pushed my face into the ground more and they just [got] on top of me and they got their hands on me, they got their knees on me, and I feared for my life."
Both Allen and her friend were arrested in the incident. The NYPD told WPIX that the officers involved were only going to give the friend a summons, but took him into custody when they realized there was also a warrant for his arrest.
Allen said she had previously had a warrant out for her arrest, but it should have been dropped out of the system in 2014 because the case had been resolved. She added that the officer never looked her name up or radioed for anyone else to run her name to know that there was a warrant out.
READ MORE: NYPD cops call Eric Garner training 'boring' and 'waste of time'
The NYPD told WPIX that the officers who arrested Allen were from a different precinct than those who were involved in the chokehold incident, so there was no connection or targeting. The department also said that Allen's injuries came because she was out of control, adding that she pushed an officer and threw herself over the fence to avoid being arrested.
Like Allen, Ramsey Orta recorded the events that led to Garner's death, and also claims he has been targeted by police since then.
"I don't really know anything about his situation that's going on, but I do believe that we are being targeted because we was there, and we watched what the NYPD did to Eric Garner, how they choked him out and he said that he couldn't breathe," Allen said.
Orta was arrested and indicted by a grand jury in August on charges of third-degree criminal weapon possession and criminal firearm possession, the Staten Island Advance reported. Police accused the 22-year-old of stuffing an unloaded gun into a teenager's waistband. Orta has said the charges were false and in retaliation for filming Garner's death.
"When they searched me, they didn't find nothing on me," Orta said to the borough paper regarding his arrest. "And the same cop that searched me, he told me clearly himself, that karma's a b*tch, what goes around comes around."
"I had nothing to do with this. I would be stupid to walk around with a gun after me being in the spotlight," Orta added.