Florida environment officials told to avoid term 'climate change' – ex-employees
Published time: 9 Mar, 2015 10:22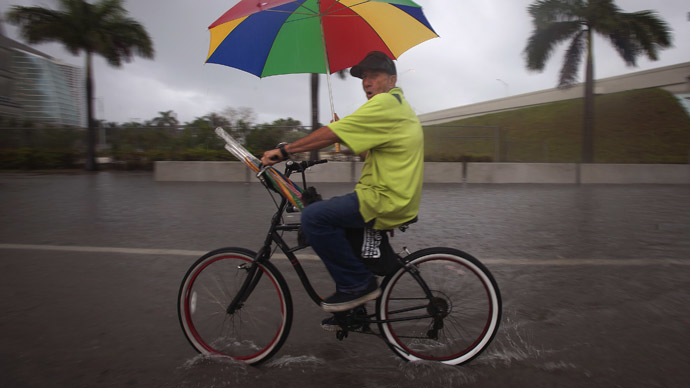 Employees from the Florida Department of Environmental Protection were allegedly told to avoid terms like "climate change" and "global warming" in official communications after Governor Rick Scott took office, according to a report.
"We were told not to use the terms 'climate change,' 'global warming' or 'sustainability,' " Christopher Byrd, an attorney with the DEP's Office of General Counsel in Tallahassee from 2008 to 2013, told the Florida Center for Investigative Reporting (FCIR). "That message was communicated to me and my colleagues by our superiors in the Office of General Counsel."
Another former DEP employee who worked in Miami, Kristina Trotta, told the FCIR that during a 2014 staff meeting her supervisor told her not to use the terms "climate change" and "global warming."

"We were instructed by our regional administrator that we were no longer allowed to use the terms 'global warming' or 'climate change' or even 'sea-level rise,' " she said. "Sea-level rise was to be referred to as 'nuisance flooding.' "

When staff protested, "the regional administrator told us that we are the governor's agency and this is the message from the governor's office," Trotta said.
According to former DEP employees, this "unwritten" and embarrassing policy was allegedly implemented after Governor Rick Scott took office in 2011 and appointed Herschel Vinyard Jr. as the DEP's director.

Governor Scott, who was re-elected last November, has tirelessly repeated he is "not convinced" that climate change is caused by human activity - despite scientific evidence to the contrary. "I'm not a scientist," he said.
Neither Vinyard (who has since resigned), nor his successor, Scott Steverson, would comment. A spokesperson for the governor, Jeri Bustamante, told the FCIR team in an email "there's no policy on this."

One former DEP employee, who asked not to be identified because of an ongoing business relationship with the department, said workers were told that using the terms in reports would bring unwanted attention to their projects.

"We were dealing with the effects and economic impact of climate change, and yet we can't reference it," the former employee recalled.

Former DEP attorney Christopher Byrd said shortly after Governor Scott appointed Vinyard as DEP director in 2011, he was also warned not to use "climate change". He said it was "an indication that the political leadership in the state of Florida is not willing to address these issues and face the music when it comes to the challenges that climate change presents." Two years later the DEP dismissed Byrd.
Scott's predecessor, Charlie Crist, took a different stance on climate change. The Florida Oceans and Coastal Council's Annual Research Plan (the 2009-2010 report, published the year before Scott was elected) featured 15 references to climate change, including a section entitled "Research Priorities – Climate Change."
Just to feel the difference, in the 2014-15 edition of the report, climate change is only mentioned if it's in the title of a previous report or conference. Terms like "climate drivers" and "climate-driven changes" are used instead.
Global warming refers to the recent and ongoing rise in global average temperature near the Earth's surface. Climate change refers to any significant change in the measures of climate lasting for an extended period of time, according to the United States Environmental Protection Agency. The US National Oceanic and Atmospheric Administration said in January that 2014 was the warmest year since records began in the late 19th Century. UN experts say, it's 95 percent likely that human activities, such as the burning of fossil fuels, are to blame for the planet growing warmer and warmer. Inaction is fraught with rising sea levels, wild weather patterns and a loss of biodiversity, scientists warn.
READ MORE: Humans can stop global warming and maintain 'high quality of life' – UK govt
Meanwhile, a significant majority of Americans say combating climate change is a moral issue that obligates them – and world leaders - to reduce carbon emissions, a Reuters/IPSOS poll found last month.

According to the study published in the journal Nature Climate Change in February improving dialogue between believers and skeptics on the importance of human activity for climate change is the best way to foster consensus among ordinary people.

"Strategies for building support for (climate) mitigation policies should go beyond attempts to improve the public's understanding of science," a professor at Australia's Monash University who co-wrote the study, Ana-Maria Bliuc, said in a statement.

Both believers and skeptics agree that climate change is real, according to the study based on an internet survey of US residents, but the two groups disagree on whether human activity is causing warming.
READ MORE: 2014 officially hottest year on record
In the United States, the two camps are mostly divided along political party lines, with over 70 percent of Democrats saying the earth is warming mainly because of human activities such as burning fossil fuels, according to polling data released by the Pew Research Center in January. Meanwhile, among Republicans only 27 percent hold this view; over 40 percent assert there's no solid evidence that the planet is getting hotter, and 30 percent say climate change is due mostly to natural environmental patterns.