Humans can stop global warming and maintain 'high quality of life' – UK govt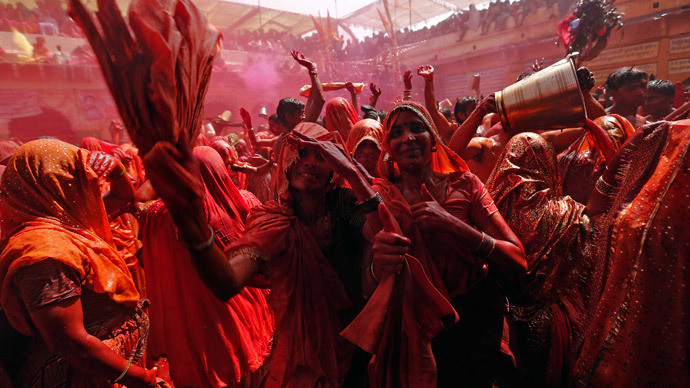 Future generations can enjoy a higher quality of life while also making huge cuts to carbon emissions, a new UK government study has found. This will only be possible if massive changes to infrastructure are made, however.
The Global Calculator, which allows users to show the global effects of climate change policy makers, is the latest piece of online softwarefrom the Department of Energy and Climate Change (DECC).
It suggests that to cap levels of toxic emissions, there will have to be a drastic overhaul of the current electricity system and mass investment in renewable energy and nuclear power, as well as greater public transport systems.
The ministry further predicts that billions of the world's population are likely to remain in extreme poverty until the middle of the century, as the increasing population will make it difficult for growing prosperity to emerge.
The analysis, which relies on commitment to the 2 degree global warming cap, is likely to produce some controversial findings.
The calculator suggests that in order to meet the rising need for food, intensive farming techniques will have to be used over increased areas of land, meaning that biodiversity may be put in danger.
It proposes intensive farming practices, including keeping cattle and other animals in warehouses so they rarely see daylight, to feed the expanding population, and urges consumers to move away from energy inefficient food sources such as beef, and toward more sustainable foods, such as chicken and vegetables.
READ MORE:Mass extinction for Earth's oceans probable, comprehensive study says
The analysis further claimed that there should be a complete stop to deforestation, and that re-forestation of between 5 and 15 percent of the world's landmass is essential by 2050.
There are problems, however, with some of the analysis from the calculator. Limits in air travel must be imposed to maintain the 2 degree global warming cap, and while it is possible for the world to produce the requisite number of calories to support each individual, it is unlikely everyone will receive their share without a transformation of equity.
Ed Davey, Secretary of State for Energy and Climate Change, praised the calculator's results.
"For the first time, this calculator shows that everyone in the world can prosper while limiting global temperature rises to 2C, preventing the most serious impacts of climate change.
"Yet the calculator is also very clear that we must act now to change how we use and generate energy and how we use our land if we are going to achieve this green growth," he said.
Some environmental campaigners agreed that the calculator was a beneficial tool to help policymakers.
Mike Childs, head of policy at Friends of the Earth, said: "The need for urgent action to avoid dangerous climate change is well accepted, but the steps we should take are often hotly contested. This excellent tool enables everyone to play the role of world leader and make decisions on the action we should take in key areas such as energy, manufacturing and farming.
He added: "It shows we can still avoid the world warming by much less than 2C above pre-industrial levels – all we need is the will to act. This calculator demonstrates to our political leaders that a cleaner, safer, fairer world is possible."
The UK government calculator is currently being offered to other governments before key climate talks in Paris at the end of 2015.
You can share this story on social media: