Colorado pot law under fire again from neighboring states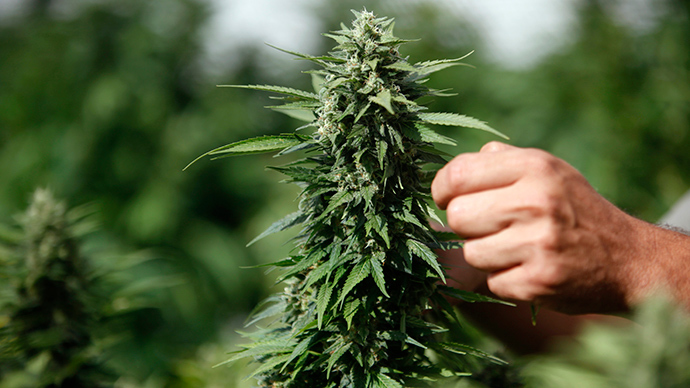 Sheriffs in three states have filed a new lawsuit this week in an attempt to overturn Colorado's first-in-the-country recreational marijuana laws.
On Thursday, law enforcement officials from counties in Colorado and two neighboring states, Kansas and Nebraska, filed a complaint in District Court in Denver in opposition to the 2012 marijuana legalization vote that for more than a year has allowed residents to buy to possess weed for personal use.
Plaintiffs – 10 sheriffs in all – say that the state rule should be nullified because it violates federal drug laws and places an "undue burden" on outside officials.
"What we're being forced to do … makes me ineligible for office," lead plaintiff Justin Smith, an officer with the Larimer County, Colorado Sheriff's Office, told Time Magazine. "Which constitution are we supposed to uphold?"
"Amendment 64 is preempted by federal law and therefore violates the Supremacy Clause (Article VI) of the United States Constitution," the lawsuit reads in part.
Last year, attorneys for the state officials in Nebraska and Oklahoma claimed in a suit that marijuana was being "heavily trafficked" into their jurisdictions, "undermining plaintiffs states' own marijuana bans, draining their treasuries and placing stress on their criminal justice systems."
A similar suit was since filed by an anti-crime group, the Washington Post reported on Thursday, making the latest legal challenge the third of its kind in only a matter of months.
"Colorado's legalization of marijuana has completely changed the landscape involving the marijuana that we encounter," a plaintiff in the latest case, Sheriff Mark Overman of Scott's Bluff County, Nebraska, told ABC News on Thursday. "Because of Amendment 64, our jails are full, our court dockets are full. There are increased costs for overtime, for incarceration."
"We are seeing a marked increase in the numbers of children as young as 13 that we are finding in possession of marijuana. We don't want what Colorado has," he said.
Colorado became the first state in the US to pass a recreational marijuana law for adults, the likes of which went into effect at the start of 2014. Similar measures have since been approved in Washington state, Oregon and Alaska.
You can share this story on social media: