Boston Marathon bombing trial opening statements underway amid high security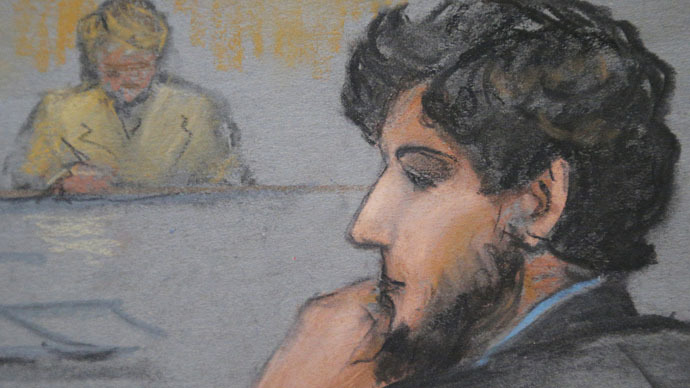 Opening statements in the trial of Boston Marathon bombing suspect Dzhokhar Tsarnaev began on Wednesday morning in federal court. The accused faces 30 charges connected to the bombings that killed three and injured more than 260 on April 15, 2013.
Prosecutors, led by Assistant US Attorney William Weinreb, maintained that Tsarnaev was willingly involved in the plot and even played a more integral role than his older brother and alleged co-conspirator Tamerlan. Weinreb said they were motivated by US wars in Muslim nations.
''He believed that he was a soldier in a holy war against Americans,'' Weinreb said, according to AP. ''He also believed that by winning that victory, he had taken a step toward reaching paradise. That was his motive for committing these crimes.''
#tsarnaev prosecutors say doesn't matter what role each bro played as long as both "partners"

— tovia smith (@toviasmithnpr) March 4, 2015
In front of a full Moakley Courthouse in South Boston, Weinreb added that the Tsarnaevs' shrapnel-packed pressure-cooker explosives were ''the type of bombs favored by terrorists because it's designed to tear people apart and create a bloody spectacle.''
Reuters: Accused Boston Marathon bomber 'had murder in his heart,' prosecutors say in opening arguments. #Tsarnaev

— Andrew Peng (@TheAPJournalist) March 4, 2015
''While victims of the bombing lay in the hospital and learned that they would have to have their limbs chopped off to save their lives, the defendant pretended that nothing had happened,'' Weinreb said, alluding to Dzhokhar's alleged actions after the bombs detonated.
Dzhokhar's defense team has tried to depict Tamerlan as the ringleader in the bombing plot. Attorney Judy Clarke said in her opening statement that the defense would not attempt to "sidestep'' his guilt for the ''senseless, horribly misguided acts carried out by two brothers.''
''The evidence will not establish and we will not argue that Tamerlan put a gun to Dzhokhar's head or that he forced him to join in the plan, but you will hear evidence about the kind of evidence that this older brother had," Clarke said, according to The Boston Globe, possibly seeking to save Dzhokhar from the death penalty.
Defense admits to #Tsarnaev's guilt, but asks jury to maintain "open hearts and minds" for the penalty phase of the trial #marathonbombing

— Ray Wang (@raywang0) March 4, 2015
Tamerlan "self-radicalized," and the younger Dzhokhar had "followed him," Clarke added.
Waiting for trial to resume. Questions swirling re: how a trial over Tsarnaev's guilt proceeds when his attorney already says he did it.

— Patricia Wen (@globepatty) March 4, 2015
I like that Judy Clarke admitted #Tsarnaev guilt in opening. She should try to flat out stipulate to it+move directly to punishment phase.

— bmaz (@bmaz) March 4, 2015
Tsarnaev, 21, also faces charges in the death of Massachusetts Institute of Technology police officer Sean Collier, who was killed during the manhunt for Dzhokhar and Tamerlan Tsarnaev. Tamerlan, 26 at the time, was killed on April 19, 2013, in a shootout with police hours before Dzhokhar was found and arrested. The brothers are ethnic Chechens who came to the US from Russia more than a decade ago.
Weinreb tells jurors that Tsarnaev and his brother Tamerlan executed MIT police officer Sean Collier... http://t.co/xeqDvQfhiI via @Scri

— Rob Velders (@RVelders) March 4, 2015
The 30-count indictment against Tsarnaev alleges that he and brother Tamerlan detonated two homemade bombs near the finish line of the Boston Marathon. Seventeen of those counts come with the death penalty. Tsarnaev has pleaded not guilty to the charges.
The courthouse was full of bombing survivors, victims' family members, media, and others as the opening statements started around 10 am, ET. Hundreds of spectators arrived as early as 5 am to enter a courtroom -- and three overflow public viewing areas -- amid heavy security surrounding the area, according to reports.
What's the collective noun for TV crews? #Tsarnaevpic.twitter.com/hdv6WoAuDK

— Nicky Woolf (@NickyWoolf) March 4, 2015
The streets around Moakley Courthouse were closed off, and barricades were set up to carefully guide spectators inside and away from buses unloading victims, according to USA Today. Boston Police and US Department of Homeland Security K-9 units prepared to sweep the area for explosives, as a helicopter hovered above and police boats patrolled the Boston Harbor.
In January 2014, federal prosecutors said they'd seek the death penalty if Dzhokhar Tsarnaev is convicted by a jury. More than one year later, though, and nearly two years after being captured, the trial has hardly gotten off the ground.
Defense attorneys representing the bombing suspect have filed multiple motions in an attempt to delay the trial. They unsuccessfully argued last August that hearings should be put on hold until at least September 2015 due to the "massive amount" of evidence involved.
In December, the defense again asked a federal judge to postpone Tsarnaev's trial, claiming prosecutors had suddenly released thousands of documents and evidence that overwhelmed the defense.
"It [is] impossible for the defense to digest this information, much less attempt to pursue investigative leads it may suggest, in time to make effective use of it at trial," they stated.
As the #Tsarnaev trial begins, never forget. #BostonStrongpic.twitter.com/M9gcjvfGyD

— Only In Boston (@OnlyInBOS) March 4, 2015
After some incremental shifts in the trial date, the trial officially began on Jan. 5, as more than 1,350 prospective jurors were considered. Following recent delays for fierce winter weather in the Boston area, 12 jurors and six alternates for the case were finally seated this week.
Tsarnaev's counsel also previously asked that the their client be tried outside of Boston due to "an overwhelming presumption of guilt in the District of Massachusetts." The defense argued last month that the recent attack at the Charlie Hebdo office in Paris be considered by the court as reason to further delay the trial because it placed the marathon bombings "at the center of a grim global drama."
READ MORE: Lawyers ask to move trial of Boston Marathon bomber to Washington, DC
If convicted, Tsarnaev's trial will move to a sentencing phase, where his only options are life in prison or the death penalty. Though the death penalty has been outlawed in Massachusetts for 30 years, Tsarnaev is eligible since his trial in being heard in federal court.
If the jury can't come to a consensus on any counts in the trial's first phase, a mistrial would be declared and the case would be tried again. A hung jury in the sentencing phase would mean automatic life in prison with no chance for parole if Tsarnaev is convicted on the most serious charges.
The trial is expected to last three to four months.