New York minority officers forced to meet quotas or face punishment, lawsuit alleges
Published time: 2 Mar, 2015 20:29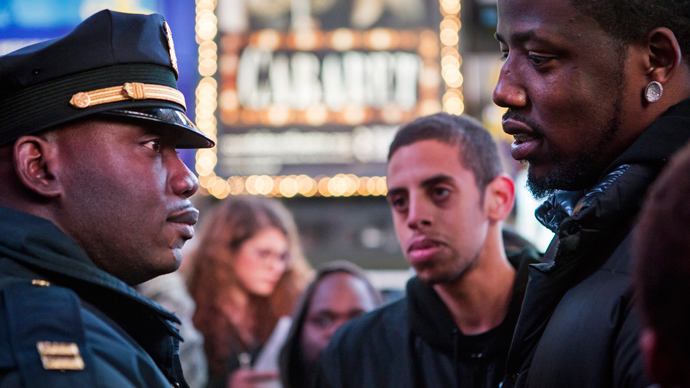 Minority officers with the New York Police Department face racial bias within arrest and summons quotas, and, compared to white officers, are disproportionately punished for failing to meet those standards, according to a new lawsuit.
The suit, to be filed Monday in Manhattan Supreme Court, alleges that black and Hispanic NYPD officers are punished more than white cops for failing to meet their quotas, which required at least one arrest and 20 summonses issued per month.
"At this point, you either come up with the numbers or there is hell to pay,'' Bronx Officer Adhyl Polanco told The New York Post.
Polanco said that when he called attention to the alleged quotas, he was told by a supervisor, "If you think one and 20 is breaking your balls, guess what you'll be doing. You'll be doing a lot more."
Another supervisor threatened Polanco with steeper punishment, he said.
"Next week, [it'll be] 25 and one, 35 and one, and until you decide to quit this job and go to work at Pizza Hut, this is what you are going to do until then," the second supervisor said, according to court papers.
NYPD targets minority officers w/ quota punishments http://t.co/kVitEQeb7s OK to fine Puerto Ricans 'cause they're "animals" @latinojustice

— Puerto Rico en Serio (@PuertoRicoSerio) March 2, 2015
Polanco and another plaintiff, officer Pedro Serrano, gave testimony in 2013 over quotas related to the NYPD's notorious stop-and-frisk program, which was deemed by a federal judge to be a systemically racist policing strategy that violated constitutional rights.
During the stop-and-frisk trial, Serrano testified that his performance evaluation subsequently dropped in every category, evidently for failing to meet the quotas. During a meeting with his supervisor, Serrano was told that his performance score was based more on his "numbers" and his "low activity." At the time, his precinct's captain is said to have informed him that the NYPD's Operations Order No. 52 allowed her to implement "performance goals," likely a veiled reference to quotas.
Much of Serrano's testimony supported accusations that officers who refused or failed to meet quotas were subjected to discriminatory treatment. Serrano pointed to the fact that he was transferred to an undesirable post, denied a day off following a car accident near his home, and his personal locker was vandalized, including the placement of "rat stickers."
Polanco and Serrano's attorney, Emeka Nwokoro said the new quota lawsuit is the first involving accusations of racial bias, the Post reported.
Serrano, who is Puerto Rican, said when he appealed to a superior over fines he was offering in the South Bronx that were not affordable to Puerto Ricans living in the area, he was told it didn't matter and that they were "animals."
According to the Post, seven NYPD traffic officers plan to file a separate class-action lawsuit alleging they were denied promotions and lost vacation time as punishment for protesting quotas.
In another NYPD-quota case, a federal appeals court last week ruled for an NYPD officer who blew the whistle on a quota system within at his Bronx precinct, saying his speech was protected.
Officer Craig Matthews exposed the illegal quota program and was punished harshly for it. He was "given punitive assignments, denied overtime and leave, separated from his longtime partner, given poor evaluations, and subjected to constant harassment and threats," according to the New York Civil Liberties Union, which filed the lawsuit on Matthews' behalf.