Cracked cantaloupe shows bulletproof baseball cap will save your melon
Published time: 27 Feb, 2015 19:51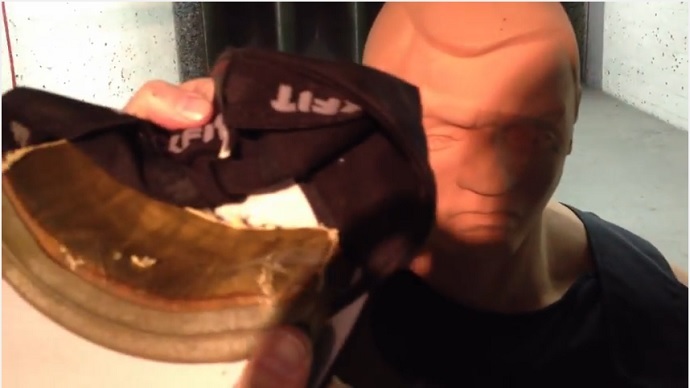 Body armor is heavy, unwieldy and impractical for everyday use. And bulletproof vests, which can be worn under clothing, don't protect the head from a kill shot. One company aims to solve those issues with an impenetrable, yet inconspicuous baseball cap.
The black cap comes with a 5-ounce, bulletproof front panel. It isn't meant to replace a SWAT-style helmet, but instead can be worn all the time to project a more approachable image, manufacturer BulletSafe says on its website.
"This cap gives increased protection without intimidation. It's a discreet way for officers to be a little bit safer and aligns with community policing practices," said Tom Nardone, the Michigan-based company's president.
"We've also gotten a lot of positive feedback from police officers because they can't wear riot gear everyday," he told WJBK.
Nardone tried out a prototype using a clay insert mimicking the bulletproof material, he told MLive.
"I wore this hat for 300 hours and not one has anyone ever said to me, 'What's with your hat?'" he said.
Firearms instructor Neil Emanuel demonstrated the headware at Action Impact gun range for the Fox affiliate. He used a Glock 17 9mm pistol ‒ the most widely used law enforcement pistol worldwide ‒ on fruit and vegetable produce wearing the BulletSafe product.
When Emanuel shot a cap-covered cabbage on a cardboard pedestal, the stand collapsed. The bullet bounced off the ballistic front panel. He repeated the test on a cap-covered cantaloupe. The bullet bounced again.
READ MORE: Bulletproof blankets sales beat 'wildest expectations' even before production starts
"When we saw the melon hit, the [hat] panel did stop the round," Nardone told WJBK. "But the energy from the panel did crack the front of that melon."
"Our early tests indicate that if you do get shot in the head wearing one of these, you are going to get a concussion," he continued. "Is a concussion better than a bullet entering your skull? It seems like that's definitely true."
The idea for the lighter, cheaper headwear came because the company was repeatedly fielding requests for ballistic helmets.
"I thought, 'Yuck! I don't want to make those.' They look ridiculous in a civilian environment," Nardone wrote on Kickstarter.
BulletSafe sought funding on crowdsourcing site Kickstarter in mid-December, where it asked for $3,500 in donations to help pay for nearly $19,000 in tooling costs, MLive reported. In its first hour, Nardone's company received $509 from five backers. Halfway through the 40-day fundraising period, donors pledged $8,300, according to CNet. The project raised $11,817 total from 157 backers ‒ and not all were members of the law enforcement community.
"A successful Kickstarter would also show our existing retailers that people want these hats," the crowdsourcing summary said.
The caps are modified from a Flexfit, Twill, Six-Panel hat, adding the ballistic front panel. The fitted headwear will come in three sizes and weigh about seven ounces in total. BulletSafe promises that there is no real difference between the look of a regular cap and their upgraded version.
"Our test prototypes stopped rounds up to NIJ Level IIA," the company said on Kickstarter. "We expect to offer protection of NIJ level IIA with our production hat. If so, the hat will stop .40, 9mm and .38 caliber rounds."
The caps will retail at $129 each ‒ or about one-third the cost of a SWAT helmet – the company said. They will weigh about 10 percent of the weight of a military combat helmet.