Bulletproof blankets sales beat 'wildest expectations' even before production starts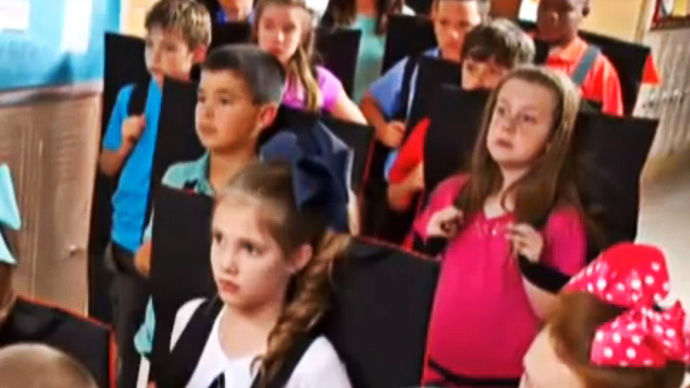 In the wake of dozens of school shootings over the last year and a half, many schools and parents have decided to turn to bulletproof school supplies in order to save children from unexpected disasters, most recently embracing beefed-up blankets.
According to the Huffington Post, an item called the Bodyguard Blanket has not even been available to purchase for two weeks, but sales for ProTecht's product are incredibly strong. In fact, the company's managing partner, Stan Schone, stated the safety device has already "far exceeded our wildest expectations."
"We have been contacted by several private and public schools that have shown great interest and by many concerned parents wanting to purchase them as well," he told the Post in an email. "Private sales have been very spirited and far greater than anticipated."
Originally designed as a way to offer students more protection in the event of a tornado, the $1,000 blanket resembles a padded mat with straps that can be worn like a backpack. The blanket is 5/16-inch thick and covers a student's entire backside. When a child ducks and covers, the pad is strong enough to protect users from 9mm bullets as well as falling debris like metal shards and nails.
The Bodyguard Blanket is just the latest in a line of bulletproof school supplies by various manufacturers, many of which see sales spike following school shootings. Following the Sandy Hook massacre, for example, the Washington Post reported sales of bulletproof backpacks and other supplies doubled or tripled, in some cases rising more than 500 percent.
As noted by NBC News, events like the Sandy Hook massacre and the Virginia Tech shooting have lingered in the minds of schools, and they have proven willing to spend money in order to protect their students.
Yet for schools that, on average, the National Center for Education Statistics says spent about $11,000 per student as of 2010-11, adding $1,000 each is a significant expense. For ProTecht's Schone and Steve Walker, the Bodyguard Blanket may not be able to deliver all the benefits of safe rooms or tornado shelters, but they are still cheaper alternatives for institutions short on money.
"By no means would we ever say that this is more protective," Walker said to the Oklahoman. "But when you have budget constraints, this might be a viable alternative."
That sentiment is not shared by many safety experts, however. With so many products on the market – bulletproof whiteboards, binders, even pencils – school safety consultant Ken Trump from Ohio argues they are taking time and money away from establishing much better safety procedures.
"It may be well-intended but it's not well thought-out," Trump told NBC. "I would ask this question: If you need a bulletproof backpack, wouldn't the child also need a bulletproof front pack and a helmet and a Captain America shield?"
Trump, along with Michael Dorn of the school safety group Safe Havens International and Gregory Thomas of Alan Thomas Security, also said that that enhancing school drills and investing in prevention would go much further than purchasing bulletproof objects.
"In the past five years we've seen draconian cuts to school security and emergency planning programs," Trump added to NBC.
"Schools have limited resources and they ought to use that money very wisely, put it into an additional school psychologist or a school police officer, train your staff and work with first responders. The most valuable school security tools are invisible."