​SoCal train derailment leaves dozens injured
At least 28 people were reportedly injured early Tuesday when a commuter train derailed in the Southern California city of Oxnard.
According to the Los Angeles Times, a spokesperson for Metrolink — the LA area's passenger rail system — said that the pre-dawn crash occurred just before 6 a.m. local time on Tuesday morning when a commuter train collided with a tractor trailer.
Metrolink spokesman Scott Johnson told the Times that three train cars detailed due to the collision and at least 28 people were injured out of the 51 or so onboard. Hours after the crash, it was reported that four people remained in critical condition, including the train's engineer.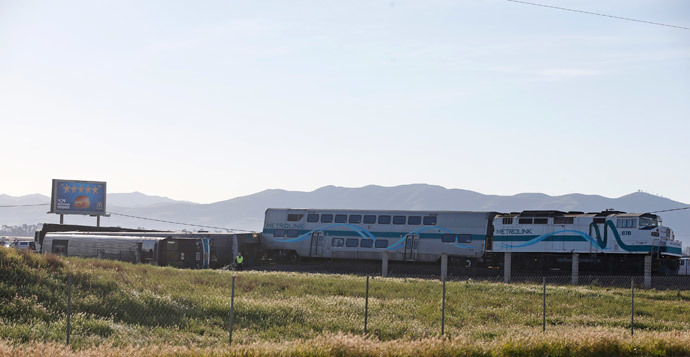 Sgt. Denise Shadinger of the Oxnard police told the Associated Press that the truck became fully engulfed in flames as a result of the crash. Photographs from the scene show that the vehicle was split in two and all but obliterated from the collision, but the driver managed to survive, according to a local NBC News affiliate. Later in the day, the LA Times reported that the driver has since been taken into custody.
The Federal Railroad Administration announced Tuesday that an investigation into the incident has been initiated.
"Safety must be every railroad's absolute top priority and we will establish what lapses, if any, occurred and order any necessary corrective actions," said Mike England, an agency spokesman, to the Times. "This morning's accident on Metrolink's Ventura County Line is a tragedy and our thoughts and prayers are with the victims and their families."
Oxnard is a city of around 203,000 situated roughly 65 miles west of LA. The crash occurred on the Ventura County Line tracks near the intersection of 5th Street and Rice Avenue at around 5:45 a.m., according to local media, when the Metrolink train reportedly struck a truck on its tracks.
Tuesday morning's incident unfolded three weeks after a commuter train near New York City struck an SUV on its tracks, killing six.
At least 30 injured in Oxnard, CA, as Metrolink train derails in crash with tractor-trailer. http://t.co/hJcDE8R9pZpic.twitter.com/oLCR4JXEAr

— Jim Roberts (@nycjim) February 24, 2015
PHOTOS: #Metrolink train derails in #Oxnard after crash. At least 30 injuries reported. http://t.co/j89PDVH2pXpic.twitter.com/9z1dx3xtu3

— CBS Los Angeles (@CBSLA) February 24, 2015
.@abc7 stream via helicopter shows extent of #Oxnard accident scene, injured being tended to, truck obliterated. pic.twitter.com/nD9DcUuWue

— Brian Ries (@moneyries) February 24, 2015