​Space: The final selfie frontier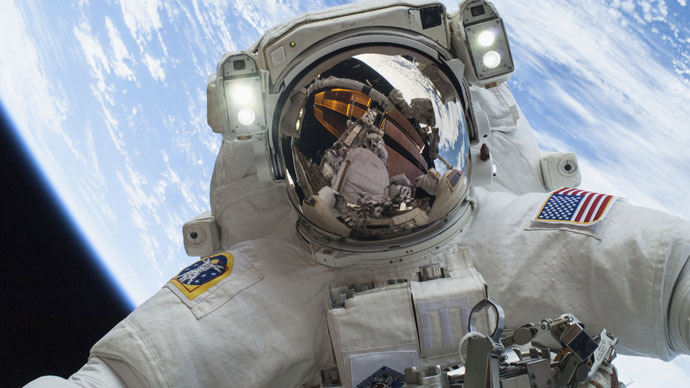 When NASA astronaut Terry Virts took his first spacewalk this weekend, he did what comes naturally these days and immortalized the event with a selfie.
My first ever spacewalk today- AWESOME!!! pic.twitter.com/yYzQcasJ6L

— Terry W. Virts (@AstroTerry) February 22, 2015
So did the mission commander, Barry "Butch" Wilmore:
My #spacewalk lead #AstroButch, with me upside down in his visor. pic.twitter.com/7jEklIQSF2

— Terry W. Virts (@AstroTerry) February 22, 2015
The spacewalk was part of an important mission to reconfigure the station for the arrival of new docking adapters, intended to accommodate commercial spacecraft delivering new crew and cargo to the orbital facility in the coming years.
Currently, the crews reach the International Space Station via the Russian Soyuz spacecraft. Cargo deliveries are handled by Russian Progress-class supply ships, and since May 2012 by the SpaceX Dragon craft.
Last October, Russian cosmonaut Oleg Artemyev put together a guide on how to take selfies in zero-gravity:
The current crew aboard the International Space Station – Expedition 42 – consists of NASA astronauts Wilmore and Virts, European Space Agency astronaut Samantha Cristoforetti and Russian cosmonauts Elena Serova, Alexander Samoukutyaev and Anton Shkaplerov.
Shkaplerov celebrated his birthday in orbit on February 20 – with a selfie, of course:
Космонавт Роскосмоса Антон Шкаплеров во время своего первого выхода в открытый космос (16 февраля 2012 г). Сегодня Антон празднует свой День рождения на орбите! @anton_astrey, поздравляем Вас! Здоровья, плодотворной работы на станции, мягкой и своевременной посадки! Roscosmos cosmonaut Anton Shkaplerov during his first spacewalk (February 16, 2012). Today @anton_astrey celebrates Birthday! We congratulate Anton and wish all the best! #роскосмос #космос #мкс #земля #earth #cosmos #space #iss #roscosmos #roscosmosofficial

A photo posted by Роскосмос/Roscosmos (@roscosmosofficial) on Feb 20, 2015 at 7:12am PST
Russian space agency Roscosmos maintains an Instagram account featuring breathtaking photography from space: https://instagram.com/roscosmosofficial
READ MORE:Most Americans say space trip a no-go, but many eye Mars – poll