​Former NYC mayor Giuliani complains of death threats after 'Obama doesn't love US' comment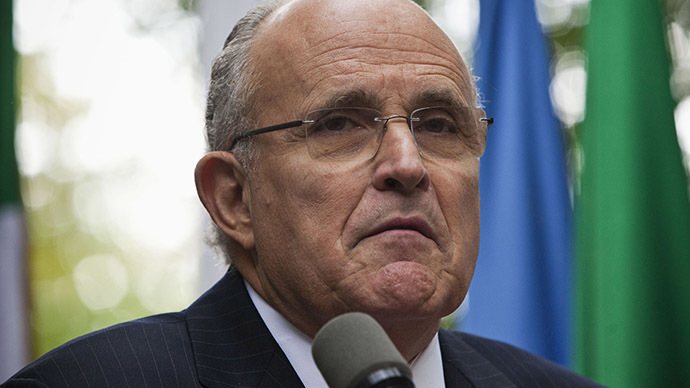 Rudy Giuliani, a former New York City mayor and one-time presidential hopeful, claims he has received death threats after recently saying that President Barack Obama "doesn't love" America.
Giuliani told CNN Saturday that his office and his secretary had received threatening phone calls in the wake of his comments.
"My secretary has received some death threats," he said in a telephone interview, without clarifying whether he had notified police about the threats.
The ex-mayor made the disparaging remarks about Obama during a private dinner for potential 2016 presidential contender Wisconsin Governor Scott Walker, Politico reported earlier this week.
"I know this is a horrible thing to say, but I do not believe that the President loves America. He doesn't love you. And he doesn't love me," Giuliani said at the dinner. "He wasn't brought up the way you were brought up and I was brought up through love of this country."
READ MORE: Minnesota newspaper apologizes for calling Obama an 'assclown'
Trying to explain his comments to the New York Daily News in the wake of a media frenzy over the remarks, Giuliani said, "Look, this man was brought up basically in a white family, so whatever he learned or didn't learn, I attribute this more to the influence of communism and socialism… I don't (see) this President as being particularly a product of African-American society or something like that. He isn't."
The former mayor says he received several calls of support commending him for what he said, including one from Louisiana Governor Bobby Jindal.
Giuliani, who ran for president in 2008, told CNN that he would not be running in 2016, and attempted to explain why he made the remarks. He criticized Obama's response to executions of Egyptian Coptic Christians by ISIS earlier this month, saying that the President needed to hold an immediate press conference denouncing the attacks and the global rise of extremism.
"I think the President is a very poor leader," Giuliani added.
The White House meanwhile called Giuliani's comments "sad."
"I can tell you that it's sad to see when somebody who has attained a certain level of public stature, and even admiration, tarnishes that legacy so thoroughly," White House Press Secretary Josh Earnest told reporters on Friday.
"And the truth is, I don't take any joy, or vindication, or satisfaction from that. I think, really, the only thing that I feel is sorry for Rudy Giuliani today," he added.