20,000 foreigners have joined ISIS in Iraq, Syria – reports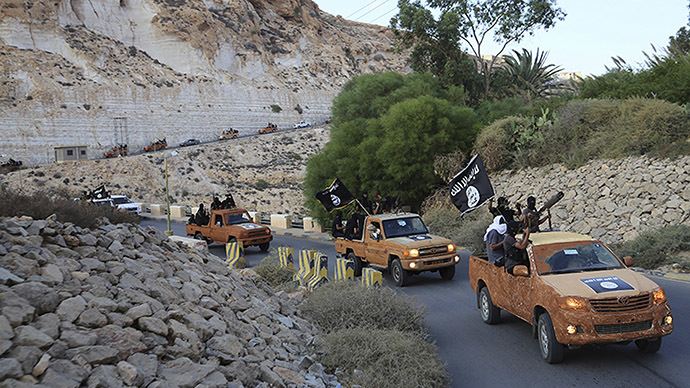 Some 20,000 foreign fighters – including at least 3,400 Westerners – have joined the Islamic State's cause and are now fighting on the frontline in Iraq and Syria, according to estimates in a number of testimonies by American intelligence officials.
Of those 3,400 Islamic State (IS, ISIS) fighters coming from the Western world, as many as 150 Americans may have reached the battlefield, officials told the House Homeland Security Committee in testimonies prepared for delivery on Wednesday, according to AP. Others were arrested en route to the war zones, while some died in the area.
Earlier this week #ISIS also entered the village Ras El-Hilal in Derna district and raised its flag: pic.twitter.com/rGbxtD9VJm

— TheMaghrebiNote (@MaghrebiNote) February 8, 2015
The chief of the National Counterterrorism Center, Nick Rasmussen, said the number of foreign fighters joining the jihadists in Syria and Iraq is growing at an unprecedented rate in comparison to foreign militants who went to Afghanistan, Pakistan, Iraq, Yemen, or Somalia in the past 20 years. The overall estimate of 20,000 foreigners in IS's army has been revised from 19,000, according to Rasmussen's prepared testimony.
The chairman of the committee, Texas Republican Rep. Michael McCaul, claimed that according to agencies, the Islamic caliphate is "the largest convergence of Islamist terrorists in world history." Sustained bombing by the American coalition has not stopped the inflow, he noted.
Dark ages get darker, as #ISIS now executing for witchcraft. http://t.co/ICm5qITVHppic.twitter.com/7fGkG2rR8j

— Anne Bayefsky (@AnneBayefsky) February 9, 2015
In another testimony prepared for Wednesday, the Homeland Security Department's intelligence chief, Francis X. Taylor, said Washington is "unaware of any specific, credible imminent threat to the Homeland."
But Michael Steinbach, assistant director of the FBI, will brief the lawmakers that last month the Islamic State released a video encouraging "lone wolf" radicals – those who have not yet traveled to Syria or Iraq – to instead attack soldiers, police, and intelligence officers in Western countries, Reuters reported.
#ISIS has executed this Sunni young man in Saladine, #Iraq, for "insulting" Prophet Muhammad. The crowd was ecstatic pic.twitter.com/lXEXxpRAt8

— Durruti Column (@zbahs) February 9, 2015
"Once in Syria, it is very difficult to discern what happens there," according to Steinbach's testimony. "This lack of clarity remains troubling."
Yet the flow of fighters – who hail from some 90 countries – is irregular, another official who spoke on condition of anonymity told Reuters.
READ MORE: Obama to seek 3-yr war authority against ISIS with limited ground troops
Meanwhile, the White House wants Congress to authorize the US military to fight the Islamic State over the next three years, and is reportedly planning to announce a formal request on Wednesday.
You can share this story on social media: