'Imminent' attack thwarted: Knives, ISIS flags seized from 2 Australian suspects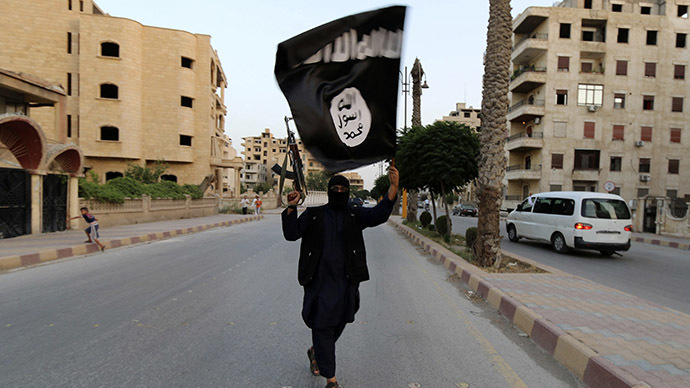 Australian counter-terrorism police have thwarted an "imminent" attack by Islamic State-inspired radicals. The two suspects arrested in Sydney possessed hunting knives and machetes, as well as homemade black flags, authorities claim.
"When we did the search of the premises, a number of items were located, including a machete, a hunting knife, a home-made flag representing the prescribed terrorist organization IS [Islamic State]," New South Wales Deputy Police Commissioner Catherine Burn told reporters. Authorities have also discovered a video in which a man talks about carrying out an attack.
"We will allege that both of these men were preparing to do this act [Tuesday]," Burns said. "We built up information, we received further information which indicated an attack was imminent, and we acted."
When asked if the men were planning a beheading, she said: "We don't really know what act they were going to commit."
"It was likely to involve one of the items which we seized which was a knife and it was going to involve a person."
Deputy Police Commissioner Catherine Burn updating media on two men charged re terror plot. @NewsTalk2UEpic.twitter.com/W4sMDXAzgC

— Michelle Taverniti (@M_Taverniti) February 10, 2015
An unnamed police official told Sky News that the men were arrested in the Sydney suburb of Fairfield. They are now due to appear in court.
READ MORE: Gunman takes hostages in Sydney cafe, displays black 'jihadist' flag
Islamic State supporters have inflicted fear in the eyes of Australians following a December hostage situation in which a gunman held 18 people captive in a 16-hour siege at a Sydney cafe. The gunman, Man Haron Monis, and two hostages died in the siege.
Since Australia raised its terror threat level to 'high' in September, a number of raids have been carried out by authorities in major cities to prevent possible attacks by Australians radicalized in Iraq or Syria. Australia believes at least 70 of its nationals have fought for IS in Iraq and Syria, backed by 100 "facilitators" back home.
You can share this story on social media: