Obama to seek 3yr war authority against ISIS with limited ground troops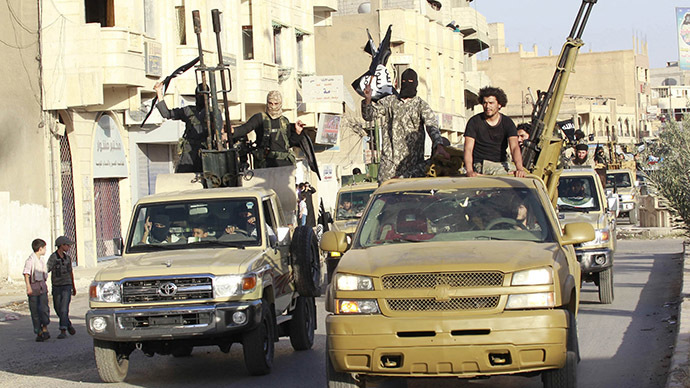 President Barack Obama will submit a proposal to Congress on Wednesday seeking a new, three-year Authorization for Use of Military Force (AUMF) against the Islamic State that allows for the limited use of ground troops, according to Reuters.
All of the details of the AUMF are not finalized, according to administration officials, but some were shared with reporters. The new AUMF would limit military operations to three years but wouldn't put any geographic limitation on the battlefield. Instead, the authorization would enable military action against the Islamic State and associated forces.
The proposal will also seek the use of limited ground troops in situations such as the search-and-rescue of US soldiers or intelligence operations, but would prohibit the use of ground troops in "enduring offensive ground operations."
READ MORE:War chest: US Air Force seeks more cash to boost Iraq & Syria ops, surveillance
The White House has indicated it is ready to work with Congress to get the authorization passed.
"When we're talking about something as weighty as an authorization to use military force, I would anticipate that it will require substantial effort from certainly the leaders in both parties in both chambers of Congress," White House press secretary Josh Earnest said last Thursday, according to the Huffington Post. "But I think...the administration is also committed to dedicating some resources to the passage of this new AUMF."
.@WhiteHouse to ask for new war authorization but @SpeakerBoehner says it won't be easy: http://t.co/SLdVmF79rypic.twitter.com/J0yAvLivqU

— Stars and Stripes (@starsandstripes) February 6, 2015
The Republican-led Congress, meanwhile, will insist on having a legislative debate about the extent of US engagement in Iraq and Syria, as well as the use of US ground troops.
READ MORE:US may send troops to Iraq as spotters, scouts - Hagel
Some hawkish Republicans oppose placing restrictions on military commanders, such as a ban on ground troops. Sen. John McCain (R-Ariz.), chairman of the Senate Armed Services Committee, simply said "no" when asked Tuesday if he supports any limits in the new authorization.
Others are calling for a more extensive authorization, allowing US forces to challenge President Bashar Assad of Syria, where a four-year civil war has fueled the rise of the Islamic State group.
"If the authorization doesn't let us counter Assad's air power, I think it will fail," said Senator Lindsey Graham, according to Reuters.
On the other hand, some Democrats have raised concern about wading into another open-ended war in the Middle East.
"I worry that this AUMF gives the ability for the next president to put ground troops back into the Middle East," said Sen. Chris Murphy (Conn.), adding that such a provision would be a sticking point for himself and many other Democrats.
READ MORE:Pentagon dispatches first batch of US forces to train Syrian rebels
You can share this story on social media: