Jeb Bush email dump reveals citizens' names, emails, Social Security numbers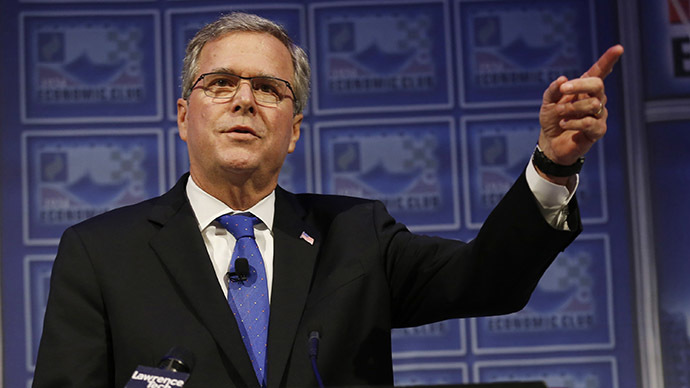 In a bid for public transparency, former Florida Gov. Jeb Bush released a massive database of personal correspondence from his time in office – except the project also published the names, email addresses, and Social Security numbers of his constituents.
The 250,000 personal emails sent to jeb@jeb.org show the two-term former governor and likely Republican presidential candidate as a man in touch with constituents and closely involved in his work as the state's chief executive. The emails cover the period of 1999-2007 and are the result of a news media request made in December 2014.
"In the spirit of transparency, I am posting the emails of my governorship here," Bush wrote on his website. "Some are funny; some are serious; some I wrote in frustration. But they're all here so you can read them and make up your own mind."
Yet shortly after the emails were posted, media outlets noticed that those in charge of publishing the messages did not redact the personal details of those who sent the letters. Email addresses, home addresses, phone numbers, and even Social Security numbers were posted online as a result, The Verge reported. According to the Daily Dot, it's possible that tens of thousands of email addresses were published.
Oops: Jeb Bush releases personal data while publishing emails in the interest of 'transparency' http://t.co/ErMqHjNeB1

— ThinkProgress (@thinkprogress) February 10, 2015
Under state law in Florida, email correspondence with the governor could be released to the public, though Social Security numbers are supposed to be protected. After Bush received news of the blunder, he told Time reporter Zeke Miller that such private information would be scrubbed from the emails.
Prior to that, Kristy Campbell, a spokesperson for Jeb Bush, released the following statement to BuzzFeed News:
"This is an exact replica of the public records on file with the Florida Department of State and are available at anyone's request under Chapter 119 sunshine laws. Regarding exempt personal identifying information, the Florida Department of State or the Executive of the Governor can share more background on exemptions under Florida Statute and the state's process of for these."
READ MORE:Eye on 2016? Jeb Bush resigns from board posts
The emails included in the dump refer to issues such as the federal seizure of five-year-old Cuban boy Elian Gonzalez, Bush's involvement in the case of Terri Schiavo – a woman in a vegetative condition whose husband wanted to take her off life support despite objections by her parents and the state – as well as the 2000 presidential election recount involving his brother, George W. Bush, and reactions to the September 11 terror attacks.
Bush said his staff estimated that he spent 30 hours a week reading and answering constituent emails. The release could be seen as establishing new criteria for transparency for presidential candidates, but under Florida's open records laws, these emails have long been open to the public.
READ MORE:Jeb Bush & Chris Christie lead pool of 2016 GOP hopefuls – poll
Of note is his response to Florida being in the national spotlight during the aftermath of the 2000 presidential election, which resulted in recounts and legal battles all the way up to the Supreme Court.
"I believe my brother will win if the law is adhered to," the governor wrote on Nov. 10 to a man who said he didn't vote for George W. Bush. "I am sickened by the 'second campaign' now being waged," he wrote, apparently referring to the election challenges.
At center stage of the contested vote was Secretary of State Katherine Harris, who had served as co-chairwoman of George W. Bush's campaign in Florida. "She is doing a fine job adhering to the laws of Florida," he wrote to a concerned supporter.
READ MORE: Jeb Bush makes first step in launching presidential campaign
On Dec. 6, he thanked a Washington lawyer who had quietly provided legal advice. "I really appreciate your input on my role in this unique and historic situation," Bush wrote to John G. Roberts, whom his brother nominated five years later to the Supreme Court.
What is missing from the emails is a way to search them by name or topic. Emails sent to Bush's official government email, as well as international notes and calendars, are absent from the collection.
The first chapter of his ebook is on the same website, wherein he uses the emails to tell the story of his life as governor.
You can share this story on social media: