NBC's Brian Williams off air, under internal probe for fake Iraq War tale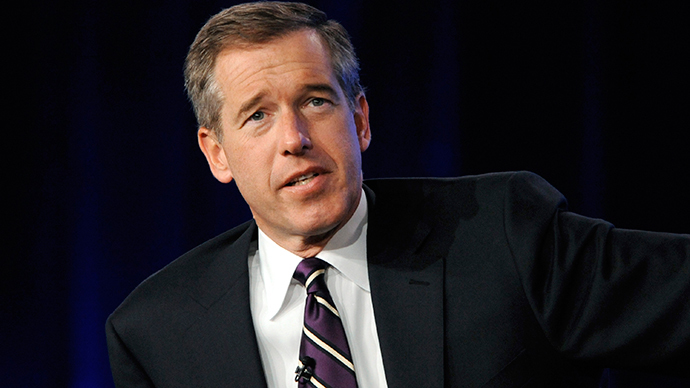 NBC TV anchor Brian Williams chose to stay off air in the wake of an internal probe he faces for embellishing a story about taking fire while flying a chopper in Iraq in 2003. The deceit was exposed by troops involved in the same airlift.
Earlier this week, 55-year-old Williams had to admit that a story he used to tell on the air for years about coming under fire in a military helicopter is not true. Veterans, who were with Williams in Iraq, said the TV host only "linked to the attacked unit by radio" while actually flying with a different helicopter.
Williams apologized last Wednesday, admitting his helicopter wasn't hit by an RPG grenade, but his critics refused to believe he made an "honest mistake".
Williams has been anchoring NBC Nightly News since 2004. On Friday, he hosted his show from New York without mentioning the unfolding scandal. The same day NBC direction launched an internal investigation into the issue endangering the network's credibility.
"As managing editor of NBC Nightly News, I have decided to take myself off of my daily broadcast for the next several days, and Lester Holt has kindly agreed to sit in for me to allow us to adequately deal with this issue," Williams posted on NBC's website.
READ MORE: Tall tale: NBC's Brian Williams retracts fake Iraq War tale after soldiers protest
EXCLUSIVE: Brian Williams leaves NBC "reality" news show to star in off-off-off Broadway revival of Pinocchio. pic.twitter.com/UbLbOz4h7w

— Roger Kimball (@rogerkimball) February 7, 2015
"In the midst of a career spent covering and consuming news, it has become painfully apparent to me that I am presently too much a part of the news, due to my actions," the anchor explained.
Williams is reportedly watched by nine million Americans every evening and earns $10 million a year. He renewed his contract with NBC for the next five years in December.
The scandal over the Iraq flight sparked suspicion about Williams' other reports. While covering the aftermath of Katrina hurricane, he said he saw dead bodies floating by, but now it's suspected he was in an area that was not actually flooded.
''When you look out of your hotel room window in the French Quarter and watch a man float by face down, when you see bodies that you last saw in Banda Aceh, Indonesia and swore to yourself that you would never see in your country…'' Williams commented in 2006, while covering the New Orleans flooding from the Ritz-Carlton hotel in the French Quarter.
Brian Williams claimed to see body floating by during Katrina coverage, but area didn't flood http://t.co/5aQvAMAfzJpic.twitter.com/TPg4I3GqpM

— Jon Passantino (@passantino) February 6, 2015
Brian Williams himself expects the scandal to cast a serious shadow over his career.
"Upon my return, I will continue my career-long effort to be worthy of the trust of those who place their trust in us," Williams wrote.
You can share this story on social media: