Detained for complaining? Traveler held for 20 hours by TSA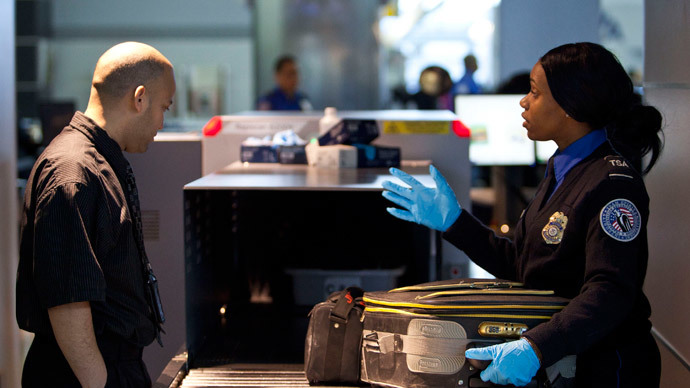 A traveler is suing the Transportation Security Administration (TSA) for placing him in a holding cell for nearly a day, after officials searched his carry-on bag and accused him of making terrorist threats.
The lawsuit, among other claims, alleges that the TSA supervisor was lying.
Philadelphia resident Roger Vanderklok filed his federal complaint on Wednesday against the TSA, the Philadelphia Police Department and Department of Homeland Security, reported the Philadelphia Daily News. In the complaint, he claimed his civil liberties were violated during an incident at the Philadelphia International Airport on January 26, 2013.
READ MORE:TSA could start snooping on social media to speed up security screenings
Vanderklok was traveling to Miami for a half-marathon when his carry-on bag containing Power Bars and a heart-monitoring watch became an object of suspicion to a TSA agent as it went through an airport X-ray scanner. Screeners spent 30 minutes checking the bag after asking Vanderklok whether it contained "organic matter" – which he took to mean fruits and vegetables – and he said no.
Lawsuit: Man held 20 hr after asking to file #TSA complaint. http://t.co/vvNxu74e85#Philadelphiapic.twitter.com/8B12AnmNeG

— Mickey Fulp (@mercenarygeo) February 5, 2015
Power Bars are considered "organic matter" by the TSA, however, which led to confusion. Vanderklok told agents if that had been explained he could have saved everyone a lot of trouble.
TSA agent Charles Kieser then became confrontational, according to the lawsuit. Vanderklok asked to file a complaint and waited for a form to arrive. Instead, the Philadelphia police were summoned by Kieser, who then held Vanderklok in an airport holding cell for three hours – his personal belongings, including his cell phone, were confiscated while police investigated him.
READ MORE:TSA confiscated over 2,000 guns, numerous grenades at US airports in 2014
Vanderklok claims he was then handcuffed, taken to the 18th District Police Precinct and placed in another cell – though police never questioned him or told him why he was being held. Seventeen hours later, he was arraigned, charged with "threatening the placement of a bomb" and making "terrorist threats." He was released on a $40,000 bail to his wife, who had not known his whereabouts and had called police alarmed.
"I was scared to death. I have never been arrested in my life, never had handcuffs put on," Vanderklok told the Philadelphia Daily News. "Throughout the night, I was in a dark place; no one knew where I was. I thought, 'I could fall off the face of the earth right now, and no one would know it."
READ MORE: Supreme Court: Fired TSA Air Marshal can get whistleblower protection
At Vanderklock's trial four months later, Keiser claimed under oath that Vanderklok had become agitated during the bag search, waving his arms around and pointing a finger at Keiser. He also said Vanderklok made bomb threats.
The latest from the buffoons at the TSA. Lying in court is just standard procedure for anyone in any type of law... http://t.co/5vZxZTUDoX

— Jay Ramey (@jayramey) February 5, 2015
Vanderklok maintained these allegations were lies and a judge dismissed the charges. An airport surveillance video, however, contradicts the TSA's account and shows Vanderklok appearing calm while his bag is searched without fuss. He does not raise his hands and does not point a finger in Keiser's face. The video does show Keiser becoming agitated.
Vanderklock's lawsuit seeks unspecified damages for a retaliatory arrest.
"It's difficult to lose control of your existence. That's what it amounts to," Vanderklok told the Associated Press. "I was absolutely terrified."
You can share this story on social media: