TSA confiscated over 2,000 guns, numerous grenades at US airports in 2014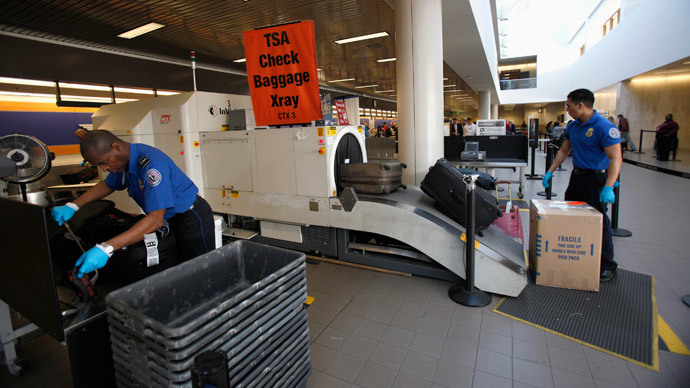 The Transportation Security Administration made a record number of weapon confiscations in 2014, seizing more than 2,000 guns, as well as flash and smoke grenades, knives, drugs, and stun guns. It even found an 8-inch knife hidden in an enchilada.
In 2014, the agency said confiscations of guns found routinely in people's luggage were up 22 percent compared to the previous year. The TSA also found bricks of marijuana, bags of heroin and a smorgasbord of other weapons – throwing knives and stars, an anti-personnel mine, 700 stun guns, a whip, bear mace and a mallet.
This is stunning. TSA seizes record number of guns (loaded) & other things: http://t.co/mrs2PHwTxhpic.twitter.com/tgQlDpw9MR

— Jim Barnett (@JimBarnettNews) January 24, 2015
Heightened security at the nation's airports meant that TSA personnel in 2014 screened more than 653 million passengers. That's about 1.8 million per day – an increase of 14 million from a year ago, according to the agency's annual report.
READ MORE:More campus police officers armed despite falling crime rates – report
Those security checks turned up a record number of firearms – a total of 2,122 – discovered in carry-on bags, averaging more than six a day at 224 airports. The top five airports for confiscations were Dallas/Fort Worth in Texas (120), Hartsfield-Jackson in Atlanta, Georgia (109), Phoenix International in Arizona (78), George Bush Intercontinental, also in Texas (77), and Denver International in Colorado (70).
TSA says guns seized at @DENAirport checkpoints up 37 percent over 2013: http://t.co/oYKewAU0ABpic.twitter.com/aTJYIE6xNX

— Laura Keeney (@LauraKeeney) January 24, 2015
"TSA takes the discovery of firearms seriously and urges all passengers to check the contents of their bags before leaving home to ensure they are not bringing any prohibited items to the airport – including firearms, firearm parts and ammunition," a TSA spokeswoman wrote in an email to CBS 6, Virginia. "The vast majority of passengers questioned about these incidents indicate they forgot the firearm was in their bag."
One of the most stunning discoveries occurred when officers at John F. Kennedy International Airport (JFK) opened a checked bag for a routine inspection and thought they saw many household items, like baby wipes, coffee, lemonade mix and a box of cat litter. After a closer look, they found two disassembled .40 caliber handguns, 350 rounds of ammunition, and 58 bricks of marijuana (33 pounds) concealed in the products. The traveler was arrested on state charges by the Port Authority Police Department.
READ MORE:South Carolina lawmaker wants mandatory NRA gun classes in schools
Other notable firearm incidents included a 94-year-old man who attempted to enter the checkpoint at LaGuardia Airport in New York with a loaded .38 caliber revolver clipped to his belt. Another had a loaded .38 caliber firearm strapped to the passenger's ankle before it was detected after walking through a metal detector at Cincinnati Airport. An assault rifle with three loaded magazines was also discovered at Dallas Love Field airport checkpoint.
Is that a gun in your bag? TSA officers found a record number of firearms in carry-ons last year: http://t.co/eyJ84m0wAH

— USA TODAY (@USATODAY) January 23, 2015
TSA officials said that in addition to firearms it found hand grenades in carry-on bags at Los Angeles International Airport, which delayed five flights for more than two hours and affected 800 passengers.
READ MORE:Pennsylvania towns abolish gun laws to avoid lawsuits
Other dangerous items discovered last year included a fireworks-making kit, fireworks, black powder pellets, live flash bang grenades, propane, a flare gun, seal deterrent, M-1000 fireworks, and live smoke grenades.
Toy manufacturers are also making their weapon-inspired products very realistic, which the TSA says leads to personnel not knowing if they are real until explosive experts are called. Their discoveries can lead to disruption, closed terminals and checkpoints, and canceled flights and delays. Some inert items found last year included six blocks of a fake C-4 explosive, a novelty alarm clock resembling an explosive device and 140 novelty hand grenades.
You can share this story on social media: