​Judge mulls whether to release grand jury docs from Garner case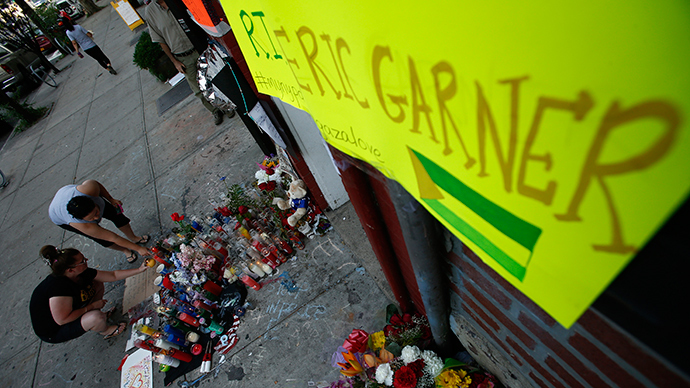 A judge in New York State is expected to hear arguments on Thursday from attorneys who want the court to come clean on the secretive grand jury investigation into the death of Eric Garner.
Judge William Garnett, a veteran justice with the state Supreme Court, will hear arguments on Thursday from two lawyers over whether or not transcripts, evidence and other records from the recent proceedings should be unsealed.
Lawyers with the New York Civil Liberties Union say Garnett should unseal details related to the December 2014 grand jury probe, because the panel's inability to indict a police officer in the death of Garner "has undermined the public's trust in our criminal justice system."
Garner, 43, died in Staten Island, NY last July after being placed in a chokehold by Officer Daniel Pantaleo of the New York Police Department. The federal grand jury convened to consider charging the cop, but declined to so five months later. Concerns over similar outcomes elsewhere in the United States in recent months has prompted the NYCLU and others to demand as much transparency as possible.
Disclosure is necessary "to restore public confidence in our criminal justice system and to inform the current debate that has begun regarding the role of the grand jury as an instrument of justice or injustice," the attorneys argued.
"If there was ever a case where the public needs to know all the facts, it's this one," NYCLU Executive Director Donna Lieberman said previously.
Public Advocate Letitia James, the New York Post and the state and local branches of the National Association for the Advancement of Colored People have all supported the NYCLU's effort.
District Attorney Daniel Donovan opposes the request for disclosure, however, and says keeping the details under seal is necessary to keep "consistent with the presumption of innocence," according to his own filings, "which simply means that no individual should suffer adverse consequences merely on the basis of an accusation, unless the charges were ultimately sustained in a court of law."
If testimonies originally made "with full assurances of secrecy" were made public, Donovan wrote, witnesses to Garner's death could expect an "inevitable result of harassment or retaliation."
Both sides are slated to present oral arguments before Judge Garnett in a New York courtroom early on Thursday and, pending the debate, the justice could clear the way for the release of transcripts, evidence details and instructions given to the grand jury.
The grand jury's December 2014 decision not to indict Officer Pantaleo came shortly after a similarly assembled panel in the state of Missouri said a police officer there would not be charged after the shooting death in August of Michael Brown, an unarmed black teen. In that case, prosecutors made a rare decision to release grand jury documents as soon as the panel decided not to indict Officer Darren Wilson.
You can share this story on social media: