Selfies turn lethal: Deadly 'distraction' thought to have caused plane crash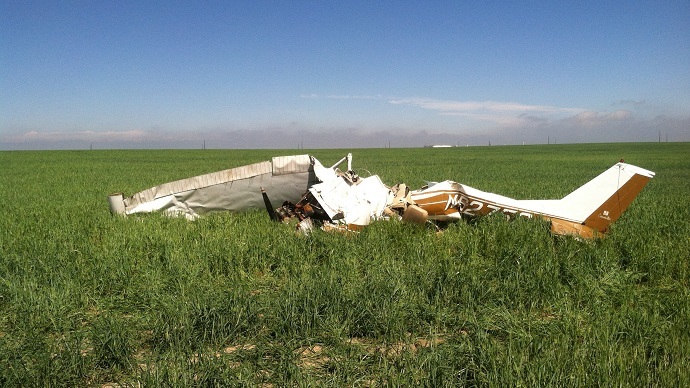 While Kim Kardashian is an unabashed supporter of 'selfies', the social media phenomenon has a new opponent: the government. The National Transportation Security Board blames distracted flying ‒ namely self-photography ‒ for a deadly plane crash.
Two people aboard a small plane died when it went down two miles from Front Range Airport in Watkins, Colorado in May 2014. The pilot, 29-year-old Amritpal Singh, was flying the Cessna 150 aircraft at night under "instrument meteorological" conditions ‒ relying mostly on instruments to fly the plane due to reduced visibility of seven miles caused by an overcast sky, according to theNTSB report on the crash. He was performing takeoffs and landings.
Taking #selfies may have played a role in a fatal plane crash: http://t.co/p2W60po4Ek#Coloradopic.twitter.com/HQzXRot66e

— CBSDenver (@CBSDenver) February 3, 2015
The flight appeared to go as planned, until the plane made a left turn that tightened as it descended at a rate of 1,900 feet per minute from its already-low altitude, the report said.
A GoPro camera was found near the wreckage, and its files were recovered, including a file recorded during the previous 6-minute flight in the traffic pattern.
While the accident flight itself was not recorded, the footage provided the government agency with clues as to the cause of the crash.
Wow... NTSB says selfies likely led to fatal Colo. plane crash http://t.co/8nskQfjqr1 (Adams Co. Sheriff Dept. photo) pic.twitter.com/7t6ZSC1u1j

— USA TODAY (@USATODAY) February 3, 2015
"The GoPro recordings revealed that the pilot and various passengers were taking self-photographs with their cell phones and, during the night flight, using the camera's flash function during the takeoff roll, initial climb, and flight in the traffic pattern," the NTSB investigators discovered.
"Based on the evidence of cell phone use during low-altitude maneuvering, including the flight immediately before the accident flight, it is likely that cell phone use during the accident flight distracted the pilot and contributed to the development of spatial disorientation and subsequent loss of control."
Investigation Finds Pilot Taking 'Selfies' May Have Led To Fatal Plane Crash http://t.co/cEfXd1mjhVpic.twitter.com/93emaJ8stE

— 10TV.com (@10TV) February 3, 2015
The NTSB report also found that Singh did not meet the currency requirements for flight in instrument meteorological conditions or night flight with passengers.
You can share this story on social media: