​Guy takes selfie with bear, America copies, then discovers original was fake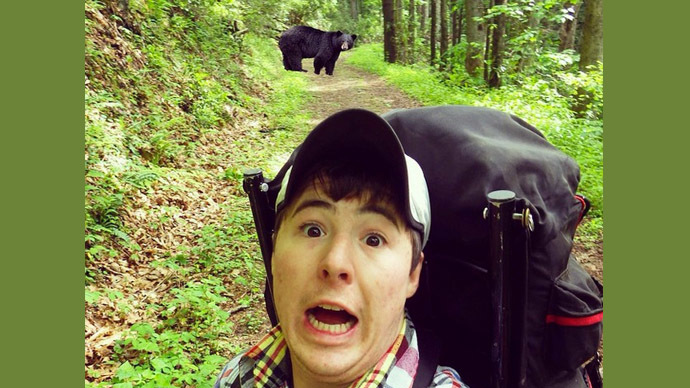 A terrifying selfie with a bear, taken by a backpacker, has seen the US go nuts over the dangerous pastime, snapping and Instagramming their own brushes with death. The one thing they didn't know? The original selfie wasn't even real.
"My faux bear selfie picture has gone viral! So many websites, newspapers and blogs have posted the picture. So funny," Jacob Bean said in a subsequent Instagramm collage of stunned newspaper headlines, depicting his 'horrified' expression in the face of certain doom.
"NO ONE except NBC has asked to use the photography or checked the legitimacy of the photograph. This picture was photoshopped as a joke after my backpacking trip in May in the Smoky Mountain National Park because I kept saying I was going to get a selfie with a bear. I never saw a bear. So I made sure it happened!" – the rest of the post read.
The original selfie dates back to May. Now even the Jimmy Kimmel show got in on the action and helped make it go viral.
But before anyone got a taste of the truth, dozens of tourists, backpackers, as well as children with parents, thought they'd one-up Jacob and see who gets closer to the wild animal.
While the forest snaps are incredibly endearing to look at, it's curious how quickly amnesia can set in when our eyes deceive us. There's no indication anywhere that the people are even remotely aware that one careless move could send the fuzzy, clumsy-looking animal hurtling towards them with murder in its eyes.
Now, the US Forest Service is very worried: it issued a statement appealing to Lake Tahoe visitors – the record-setting bear-selfie destination in California – warning them not to be tempted.
"People have been rushing up to the bears to take selfies and videos with them," Lisa Herron, a public affairs officer for the Lake Tahoe Basin said on Friday.
"A bear will come and whole mobs of people will charge up to them to take photos."
The headache the forest rangers are experiencing with these safety hazards is made all the more severe by the fact that it's October – salmon season. And the cuddly predators can't keep their paws away from the delicious fish that swim up through the Taylor Creek to spawn.
"We did have somebody tell our staff that a bear had charged someone recently," Herron continued. "Black bears seem big and lumbering, but they're very, very fast," she warned, adding that wildlife must be respected.
The authorities are now saying the influx of bear-seekers may force them to close the area over safety issues.