'Attack on journalism': WikiLeaks responds to Google's cooperation with US govt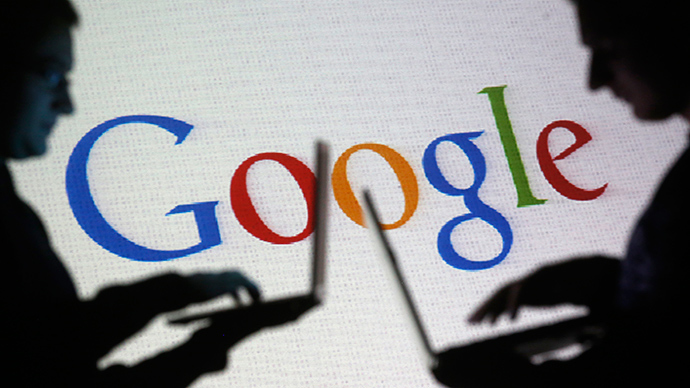 Google's willingness to surrender the private emails of WikiLeaks staffers to the United States government amounts to an "attack on journalism," a representative for the whistleblower group says.
Kristinn Hrafnsson, an Icelandic journalist who joined WikiLeaks as the group's spokesman in 2010, said he's "appalled" that Google gave up his personal correspondence and other sensitive details to the US government in compliance with a search warrant served to the tech giant, apparently in an effort to bring charges against the anti-secrecy organization and its editor, Julian Assange.
"I believe this is an attack on me. As a journalist for now almost 30 years, I think this is an attack on journalism," Hrafnsson said Monday at a press conference in Geneva, Switzerland.
Earlier that day, WikiLeaks announced that the Google accounts registered to three staffers – Hrafnsson, investigations editor Sarah Harrison and senior editor Joseph Farrell – had been the subject of federal search warrants served to the tech giant in March 2012.
READ MORE:WikiLeaks 'astonished and disturbed': Google gave its major staff data to US govt
According to Hrafnsson, the warrants compelled Google to give up the contents of the WikiLeaks staffers' Gmail accounts, including deleted messages, draft emails, photo attachments and information about the IP addresses where those accounts had logged on from.
"I'm a little surprised to learn that Google keeps emails I have deleted," Hrafnsson said. "That is what I read out of the documents."
Hrafnsson: 'It's deleted emails, meta data, where you were when you logged in... It's all the information that Google handed over.'

— WikiLeaks (@wikileaks) January 26, 2015
Michael Ratner, the US lawyer for WikiLeaks and Assange, said Monday that "essentially everything associated with the accounts of these three journalists" was seized by the government after Google was served in March 2012 and therefore ordered to give up all account data preceding that date by early April.
"The warrants acted like a huge vacuum cleaner," he said. "It's shocking that the US would do that to a journalist organization and to journalists working in that organization."
WikiLeaks was not made aware of the search warrants until two-and-a-half years later on December 23, 2014, however, and, as of this week, the organization is publicly demanding answers from Google and the government.
Had Google been made aware of the warrants at the time, the group may have been able to fight back, according to Ratner.
"We don't know if Google tried to litigate it or not, but that's one of our requests," Ratner said, adding that in a previous, similar situation, Twitter tried to fend off government requests for user data.
"Google claims there was a gag order in order to prohibit them from telling our clients," Ratner added. "But the question is: did Google litigate that gag order so it could tell its subscribers, or did it simply let the government suck up all of its subscriber information? We need to know that."
Hrafnsson and Harrison acknowledged Monday that they have not used their Google accounts for any internal matters concerning WikiLeaks since joining the group, but the spokesperson said his inbox contained upwards of 35,000 emails when it was seized, and Ratner believes the total trove also includes privileged attorney-client correspondence sent between journalists and their counsel.
Harrison: 'No one at #WikiLeaks would use Google for internal communications. The account I had was a personal one from a long time ago.'

— WikiLeaks (@wikileaks) January 26, 2015
According to Ratner, the warrants against Hrafnsson, Harrison and Farrell "were done on the basis that the US asserted that the emails and other material from these journalists contained evidence in violation of the Espionage Act, conspiracy to commit espionage, violation of the Computer Fraud and Abuse Act and other federal laws," and comes in the midst of a federal investigation into the organization that was launched in 2010.
"In other words, somehow the US was putting together a conspiracy charge or espionage and perhaps more against WikiLeaks and the journalists associated," Ratner said.
"This case shows the direction and the will and the breakdown of the legal process with the US government when it comes to WikiLeaks," added Harrison, who made headlines in 2013 after she accompanied former National Security Agency contractor Edward Snowden from Hong Kong to Russia. Snowden, the 31-year-old former systems administrator now wanted in the US for espionage and theft, has since rallied for enhanced protections for journalists and sources.
Harrison: "This case shows the direction and the will and the breakdown of the legal process with the US govn't when it comes to @WikiLeaks"

— Andrew Blake (@apblake) January 26, 2015
"Laws are made to protect national security, not people working within national security agencies," Hrafnsson said on Monday.
As tech firms are routinely caught cooperating with governments, though, it's becoming increasingly clear that the communications of foreign journalists – be they in the national security realm or otherwise – are in danger of falling prey to federally-sanctioned eavesdropping.
"You cannot rely on any communications, either working with your sources of leaks or anybody, and assume it is secure unless it is heavily encrypted. Emails, chats, et cetera," Hrafnsson said during Monday's event in Geneva. "But this runs deeper than that. The implication is also that if you are working on a story that is deemed as unfavorable to the superpower on the other side of the Atlantic, you might be branded a terrorist. They might wave the Espionage Act of 1917…and other legal mechanisms to try to silence you. That is the real implication to all journalists."
"This is yet another illustration of how far down the slippery slope our country has fallen," said Ladar Levison, an online entrepreneur who shut down his email service, Lavabit, in 2013 after he was asked by the government to compromise the entire system for the sake of eavesdropping on a single customer who is largely presumed to be Snowden.
READ MORE:Spooked off the Net: Owner of Lavabit email blames US surveillance for closure
"It's clear that surveillance capabilities intended for the pursuit of criminals have been used for a purely political purpose. How many times must evil be allowed to collaborate with time and corrupt a noble intent? If we allow these tools to exist, and be used in secret, then regardless of promises to the contrary, they will be used to further a malicious end," Levison told RT's Andrew Blake.
The latest revelations concerning the seized Google accounts also ring similar to an incident in which Herbert Snorrason and Smári McCarthy, two Icelanders both known publicly as one-time associates of WikiLeaks, learned only in June 2013 that their Google accounts had long been compromised by the US government pursuant to an investigation into the group. An American volunteer for WikiLeaks, Jacob Appelbaum, has previously seen his personal Twitter account, Google account and records from his Internet Service Provider seized by the US government, as well.
READ MORE:US government seizes Gmail of WikiLeaks volunteer
Chelsea Manning, the 27-year-old US Army private who provided WikiLeaks with classified military documents in 2009 and 2010, is currently serving a 35-year prison sentence for her role with the website. Chicago hacktivist Jeremy Hammond, 30, of Chicago, is serving a decade for his part in stealing private data from an intelligence firm that was later published by WikiLeaks. And last week, writer Barrett Brown, 33, was dealt a 5.5 year sentence, in part for aiding Hammond after the hack occurred.
On Monday, Ratner said a federal probe into WikiLeaks and Assange was still open, per a government admission, as of last May. Assange, 43, has resided within the Ecuadorian embassy in London for over two years awaiting safe passage to South America, where he has been granted asylum. The WikiLeaks editor has not been charged with a crime, but is wanted for questioning regarding allegations of sexual misconduct in Sweden.
You can share this story on social media: