Ulbricht confessed he built Silk Road to sell drugs, friend testifies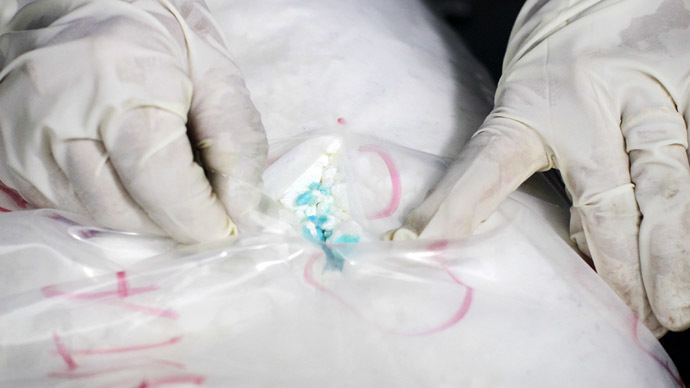 A one time programming friend of the alleged Silk Road creator took the stand and told the jury when he refused to give Ulbricht further advice for programming was told it was a "website where people can buy drugs."
A one-time programming friend of alleged Silk Road creator, Ross Ulbricht, told a federal jury that Ulbricht confessed in real life to creating "a website where people can buy drugs" while he solicited coding advice.
Software engineer Richard Bates told the court on Thursday that, from 2010 to at least 2011, he gave programming advice to Ulbricht. Bates said initially the project was described as "top secret," but when Bates said that he had refused to offer more assistance unless Ulbricht shared the details of the project, that's when Ulbricht showed him the Silk Road for the first time – on a laptop.
"I told him, tell me about this or leave me out of it," said Bates, a Texas-based software engineer for eBay, reported Wired. "He told me about it."
RT skanndTyagi #letsFootball#atk WIRED : Ross Ulbricht confessed to creating Silk Road, testifies college frien... pic.twitter.com/wAOIsQ0cHE

— Sumona Roy (@pearl_sumona) January 23, 2015
Bates told the prosecutor, "I remember seeing the home page, the green camel (of the Silk Road logo) for the first time, and pictures of drugs. I was shocked and very intrigued. I didn't know how something like this could be possible."
READ MORE:Silk Road creator admits building website, denies growing it into illegal market
According to prosecutors, Ulbricht aided in the trafficking of controlled substances from January 2011 up until his arrest. Through a government investigation, authorities determined that several thousand drug dealers used the Silk Road to distribute hundreds of kilograms of illegal drugs to over 100,000 buyers, laundering hundreds of millions of dollars in the process.
READ MORE:Attorneys for alleged Silk Road mastermind say bitcoin exec set their client up
Bates said he was initially shocked about the site but continued to advise Ulbricht until March 2011. He said the two of them also worked on plans for a bitcoin exchange. Bates himself used the site to buy drugs under the alias "melee," saying he purchased marijuana, ecstasy, psychedelic mushrooms, Vicodin and antibiotics. Bates also said Ulbricht gave him a bag of psychedelic mushrooms that the defendant is alleged to have grown at home and sold on the site.

Bates said when Ulbricht was first arrested in October 2013, Bates lied about his involvement and drug purchases to FBI agents when they initially visited him in his home. He agreed to testify to avoid prosecution.
READ MORE:Silk Road 2.0 taken down, 6 Britons arrested in dark web int'l police op
Bates said he met Ulbricht when they were undergraduate students at University of Texas at Dallas and became friends. By late 2010, Bates said they saw each other once a week. Around that time, Ulbricht asked frequent questions about PHP and server administration, often over Google chat.
really enjoyed @samfbiddle's 'Why You Should Care About The Silk Road Trial' explainer. http://t.co/bCoHyuAKHh

— Charlie Warzel (@cwarzel) January 22, 2015
The court adjourned today before the prosecutor had finished asking his questions and any cross-examination about the defense.
Defense attorneys have argued that Ulbricht created the Silk Road only as an "economic experiment" before giving it to other operators who expanded it into a narcotics empire and then framed Ulbricht. But prosecutors say Bates' testimony on Thursday shows Ulbricht's intention to create a site to sell drugs and showed he ran the site longer than his attorneys claimed.
Ulbricht, accused of going by the name 'Dread Pirate Roberts' on the website, faces up to life in prison. He has pleaded not guilty to the charges, and argues that he is not Dread Pirate Roberts.
Ulbricht's attorney, Joshua Dratel, has argued that his client was actually framed by the real Dread Pirate Roberts before his arrest.
You can share this story on social media: