Silk Road 2.0 taken down, 6 Britons arrested in dark web int'l police op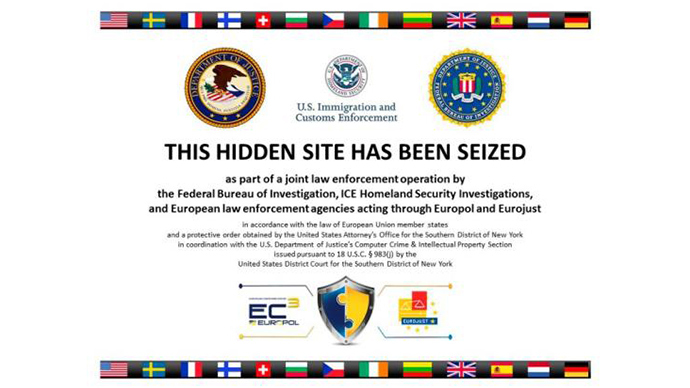 Six Britons have been arrested on suspicion of using the dark web service 'Silk Road 2.0' to sell illegal drugs. The men were arrested as part of a joint EU-US operation into black market activity.
Along with Silk Road 2.0, around 400 other websites believed to be selling illegal items and services were also shut down. The websites operated on the Tor network, the interface used to access encrypted areas of the web.
Around $1 million worth of the electronic currency Bitcoin was also seized during the operation.
Those arrested include a 20-year-old man from Liverpool, a 19-year-old man from Lincolnshire, a 30-year-old man from Cleethorpes and a 29-year-old man from Aberdovey in Wales. A 58-year-old woman from Aberdovey was also held.
READ MORE:Darknet drug site Silk Road booming again as Feds fail to keep up
The UK's National Crime Agency (NCA), dubbed Britain's FBI, said all suspects had been interviewed and bailed.
According to reports from British media, police used new techniques to target servers connected to the dark net, the first time international security agencies have used such methods in a joint operation. However, no further details have been disclosed.
"Over the months since the original Silk Road was taken down, we have been working with partners in the US and Europe to locate technical infrastructure key to the dark web and to investigate individuals suspected of significant involvement in illegal online market places," said NCA deputy director Roy McComb.
"Criminals like to think that the dark web provides a safe, anonymous haven but in reality this is just like any other organized crime network," he said.
READ MORE:Accused darkweb bazaar Silk Road creator loses dismissal bid
Sixteen European countries took part in the operation, with 17 arrests in total. According to the NCA and Europol, Blake Benthall, who created Silk Road 2.0, was among those arrested in the operation.
Silk Road is an online market place that operates within the deep web – an area of the internet inaccessible to most due to high levels of internet encryption. The original "Silk Road" marketplace was taken down by international authorities last September, but the second version was set up just two months later.
The arrests follow statements made by the Commissioner of the London Metropolitan Police Sir Bernard Hogan-Howe on Thursday, who said that the dark web was providing a safe haven for criminality.
Following the operation, Europol's head of European cybercrime, Troels Oerting, said it could "remove vital criminal infrastructures that are supporting serious organized crime" by accessing areas of the internet that criminals considered "beyond reach."
Earlier this year, the NCA accessed the dark web to arrest more than 600 people who had accessed and distributed images of child abuse online.
You can share this story on social media: