#BlueLivesMatter: Hundreds rally in support of police officers in Washington DC (VIDEO)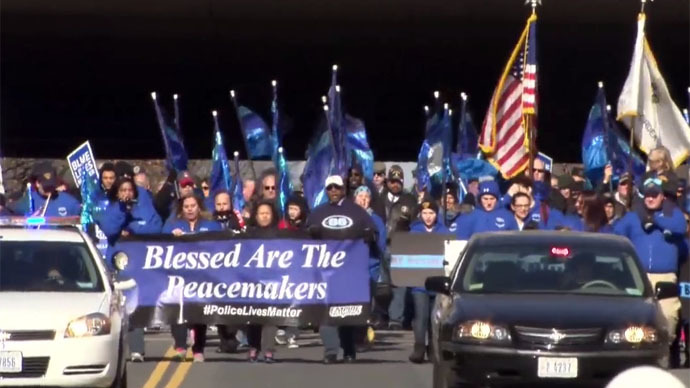 ​Hundreds of police officers, their families, and supporters have participated in a pro-police rally in Washington, DC, at a time when tensions between police and the public are heating up nationwide.
The rally, known as 'End the Madness' or 'Sea of Blue,' saw the streets of the US capital flooded with blue flags, as the around 600-strong crowd descended on the National Law Enforcement Memorial. Carrying "Blue Lives Matter" banners and chanting "Police, Thank you," the crowd marched to the Capitol building.
"The only thing that we are trying to voice is get out there, wear your blue, let everyone know blue lives matter, all lives matter, and thank a police officer. And let us get our communities back together again," Kelly Wince, one of the rally's organizers told Sputnik.
Great pic RT @ABC7News: Hundreds endure cold as #SeaOfBlue rally in #DC backs police. http://t.co/6NmafSVn1Opic.twitter.com/Is7BJmfQaa

— Cameron Gray (@Cameron_Gray) January 18, 2015
'#SeaofBlue' demonstrators rally in support of police http://t.co/kJ5SuYtMnMpic.twitter.com/CYOoQzdJ6q

— PostPhoto (@postphoto) January 18, 2015
Organized by three police wives in the wake of the December attacks on officers, the rally is aimed at building support of US law enforcement agencies across the nation.
Overall tensions in the US remain high, as two NYPD officers – Rafael Ramos and Wenjian Liu – were killed by a gunman, apparently in a brutal response to the police killings of African-Americans Michael Brown and Eric Garner.
Sea of blue today in Washington D.C. Support the Police rally. pic.twitter.com/X7vJsznY5b

— Chris Di Palma (@ChrisDiPalma1) January 17, 2015
"It is a long time coming…but with all the tensions in the media it inflamed it a little bit, the men and women in law enforcement are tired, they need to know people do support them, we thank them, we care about them," Wince said.
You can share this story on social media: