Majority of America's public school children are living in poverty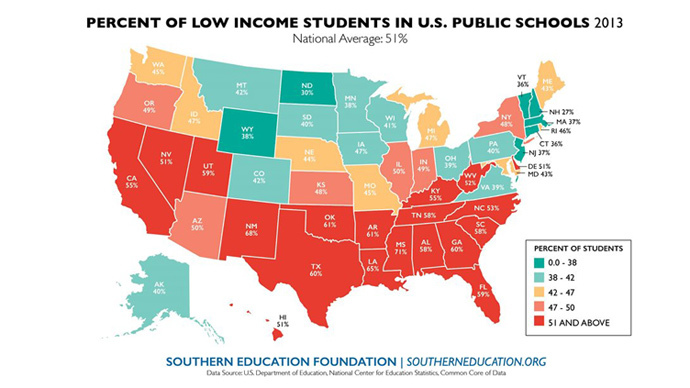 A new study shows that the majority of public school children in the United States are living in poverty.
The report, conducted by the Southern Education Foundation, drew its conclusions from data revealing how many public school children qualify for free or reduced-price school meals.
For the first time on record, 51 percent of students are living in poverty. There are an estimated 74 .5 million children in the US.
Study authors said they have noticed a continuing trend of increased poverty levels since 1989, when 32 percent of students qualified for these types of meals. By 2000, the number had risen to 38 percent. In 2013, it had gone up another 13 percent, according to information from the National Center for Education Statistics.
"No longer can we consider the problems and needs of low income students simply a matter of fairness," the Southern Education Foundation report says, quoting from a previous analysis. "Their success or failure in the public schools will determine the entire body of human capital and educational potential that the nation will possess in the future."
READ MORE:First time in history: US schools will not have white majority this autumn
Students are eligible for free meals if their families are already on benefit programs or if household income is no more than 135 percent of the poverty level. They qualify for reduced-price meals if household income is no more than 185 percent of the poverty level. The federal poverty level in 2013 was measured as $23,550 for a family of two adults and two children.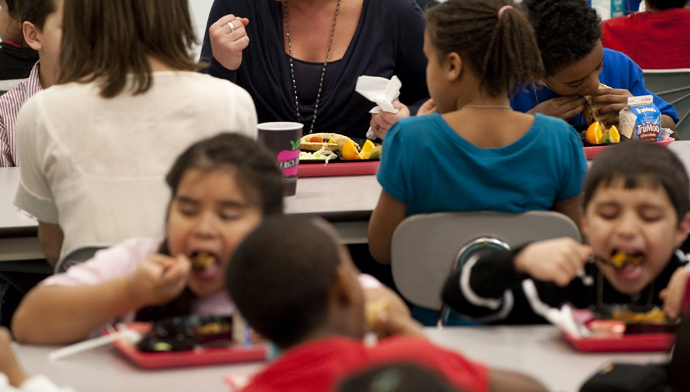 Of the states with a majority of low-income students, 13 were located in the South, and six in the West.
Three states were shown to have the highest concentrations of low-income students: Mississippi led with 71 percent – almost three out of every four public school children needed help. New Mexico was next, with 68 percent, followed by Louisiana with 65 percent.
"That deepening poverty likely will complicate already fraught political discussions on how to educate American students, as prior research has shown students are significantly more at risk academically in schools with 40 percent or higher concentrations of poverty," wrote Education Week.
News of this latest trend comes about two months after a separate study revealed another disturbing development: the growing number of homeless children.
READ MORE:Poverty-stricken neighborhoods almost triple in US
The National Center on Family Homelessness found that one child in every 30 was homeless in 2013, marking an all-time high for 2.5 million American children, which is attributable to high poverty rates and the lack of affordable housing, among other causes.
The report, 'America's Youngest Outcasts,' was prepared using the "most recent federal data that comprehensively counts homeless children, using more than 30 variables from over a dozen established data sets."
From 2012 to 2013, child homelessness in the US went up by eight percent overall, as 31 states and the District of Columbia had increases, according to the report.
READ MORE:US child homelessness at all-time high
Shahera Hyatt, director of the California Homeless Youth Project and a former homeless youth herself, told AP she was not surprised by her state's dismal ranking and the high number of homeless kids.
"These terms like 'couch surfing' and 'doubled-up' sound a lot more polite than they are in practice," she said. "For teenagers, it might be exchanging sex for a place to stay or staying someplace that does not feel safe because they are so mired in their day-to-day survival needs."
The report says that solutions to youth homelessness must include more affordable housing, education, employment opportunities for homeless parents, and special services for mothers forced into homelessness due to domestic violence.
"Without decisive action and the allocation of sufficient resources, the nation will fail to reach the stated federal goal of ending family homelessness by 2020, and child homelessness may result in a permanent Third World in America," the report concludes.
You can share this story on social media: