'My body is on fire': Oklahoma proceeds with executions using controversial method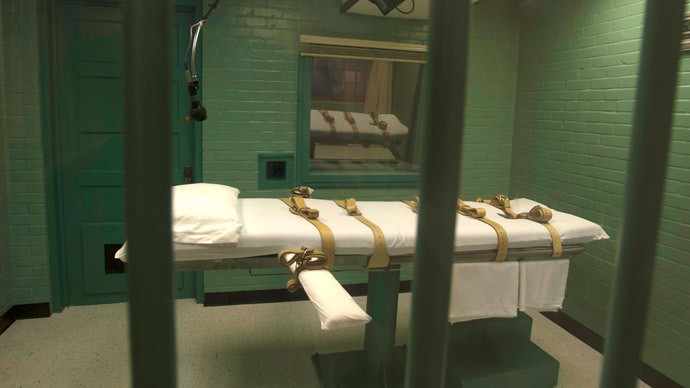 Oklahoma inmate Charles Warner said his "body is on fire" in a final statement before his execution on Thursday. Yet given a paralytic sedative, he showed no physical signs of distress as he was administered a deadly three-drug cocktail, his lawyer said.
Following an 18-minute lethal injection process, Warner, the first Oklahoma death row inmate put to death since the state mishandled an execution nine months ago, was declared dead at 7:28 p.m. CST, according to the Associated Press.
Charles Warner said "My body is on fire." "No one should go through this. I'm not afraid to die. We's all going to die," 4 of 4

— Death Penalty Info (@Death__Penalty) January 16, 2015
Warner, 47, was convicted of the rape and murder of an infant in 1997. His execution was originally scheduled the same day as Clayton Lockett, the subject of a disastrous lethal injection less than one year ago that put a halt on capital punishment in the state.
Doctors burst a vein in Lockett's body while administering a controversial cocktail of drugs. As RT reported last year, the drugs were administered locally instead of directly into his bloodstream as a result, and an unknown amount was absorbed into his body. Visibly writing in pain, he died of a heart attack 43 minutes after the procedure began.
Warner appeared for his execution in gray prison scrubs and was covered with a sheet up to his waist, according to AP.
Asked for his final words, he said, "Before I give my final statement, I'll tell you they poked me five times. It hurt. It feels like acid."
Returning media witnesses in Oklahoma are saying that Charles Warner complained that he had to be struck 5 times to insert the iv shunts.

— Death Penalty Info (@Death__Penalty) January 16, 2015
Warner then apologized to his family for the grief he caused them, saying, "I'm not a monster. I didn't do everything they said I did."
I'm not a monster. I didn't do everything they said I did. I love people. I love my family. I love Jesus," 2 of 4

— Death Penalty Info (@Death__Penalty) January 16, 2015
He thanked his mother & sister for their support, & said to "tell my baby girl she means the world to me." Once the execution started 3 of 4

— Death Penalty Info (@Death__Penalty) January 16, 2015
Witnesses reported that the back of Warner's neck twitched for about seven minutes not long after the injection process began. The twitching stopped when he ceased breathing.
His attorney, Madeline Cohen, who was present for the execution, said in a statement that there was no way to tell if Warner suffered because the second drug given to him was a paralytic sedative, the controversial midazolam.
"Because Oklahoma injected Mr. Warner with a paralytic tonight, acting as a chemical veil, we will never know whether he experienced the intense pain of suffocation and burning that would result from injecting a conscious person with rocuronium bromide and potassium chloride," Cohen said.
Apart from Charles Warner's own admissions to pain, he showed no signs of any attempted "struck shunts" & no distress during the #execution.

— Death Penalty Info (@Death__Penalty) January 16, 2015
After a federal appeals court rejected on Monday his appeal to delay the execution, Warner had petitioned the US Supreme Court for a reprieve considering the method of death he faced.
The Court, in a 5-4 ruling on Thursday, also rejected an appeal over the drugs.
Writing the dissenting opinion, Justice Sonia Sotomayor wrote that the unsure methods deserves scrutiny, as many states have increased their use of untested drug cocktails as access to other chemicals has dissipated.
"Petitioners have committed horrific crimes, and should be punished," Sotomayor wrote. "But the Eighth Amendment guarantees that no one should be subjected to an execution that causes searing, unnecessary pain before death."
You're entitled to your opinion, but if your upset that Charles Warner was executed, at least read his court case prior to complaining.

— The Bear (@ZenoAurelius) January 16, 2015
In June 2014, 21 death row inmates -- including Warner -- sued the state after Lockett's bungled execution, questioning the use of the sedative midazolam.
The lawsuit accused Oklahoma state officials of failing to confer with experts as they developed new execution protocols, insisting that the drug combinations they settled on are not appropriate for lethal injections.
Inmates extended their challenge to the way drugs are developed, claiming that chemicals manufactured at compounding pharmacies – which are not regulated as heavily by the Food and Drug Administration compared to other facilities – should not be used without a court-ordered review. Many states have turned to compounding pharmacies for execution-related drugs since European pharmaceutical companies, their chief suppliers, have banned sales to correctional departments over moral objections to capital punishment.
After Lockett's execution, Oklahoma ordered a review of its lethal injection practices. The state determined that as much as five times the amount of midazolam administered to Lockett will be the new norm for executions, and that a backup IV line and ultrasound machine would be used to find and secure veins. The state also used the review to conclude less news media should be allowed present at executions.
Oklahoma Attorney General Scott Pruitt has said, according to AP, that midazolam is not the preferred choice for state executions, but that more proven, effective execution drugs have been hard to come by.
Florida, which also uses a significant amount of midazolam in its lethal injections, also held an execution Thursday, putting to death convicted murderer Johnny Shane Kormondy, 42.
You can share this story on social media: