Oklahoma death row inmates sue to stop executions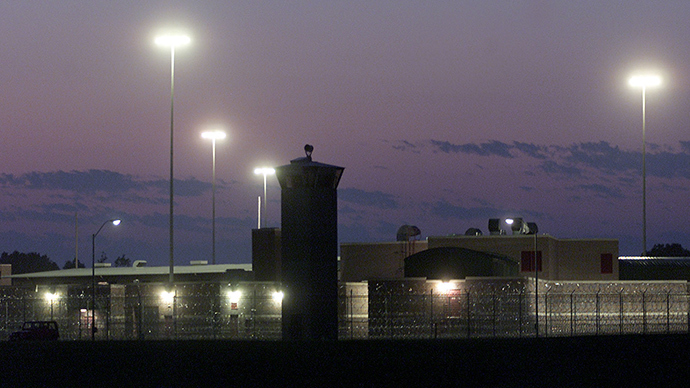 Death row inmates in Oklahoma have filed a new lawsuit against the state, claiming that experiments with lethal injection drugs are causing unnecessary harm and unusually painful deaths for those sentenced for execution.
The federal lawsuit was filed in US District Court by 21 inmates on Wednesday, with their attorneys arguing that attempts to execute prisoners via new and untested lethal injection procedures violate human rights, cause pain, and are unconstitutional.
Additionally, the lawsuit accuses Oklahoma state officials of failing to confer with experts as they developed new execution protocols, insisting that the drug combinations they settled on are not appropriate for lethal injections.
"The plaintiffs are not challenging their convictions or sentences of death in this action," the complaint reads, as quoted by the Guardian. "They are challenging only the way in which their sentences of death will be carried out by the defendants."
According to the Associated Press, the inmates extended their challenge to the way drugs are developed, claiming that chemicals manufactured at compounding pharmacies – which are not regulated as heavily by the Food and Drug Administration compared to other facilities – should not be used without a court-ordered review. Many states have turned to compounding pharmacies for execution-related drugs since European pharmaceutical companies, their chief suppliers, have banned sales to correctional departments over moral objections to capital punishment.
"By attempting to conduct executions with an ever-changing array of untried drugs of unknown provenance, using untested procedures, the defendants are engaging in a program of biological experimentation on captive and unwilling human subjects," the inmates' lawyers said in court, according to the AP.
The lawsuit arrives in the wake of the bungled execution of Oklahoma inmate Clayton Lockett, who died after doctors burst a vein in his body administering a controversial cocktail of drugs. As RT reported in April, the drugs leaked out of his vein as a result and an unknown amount was absorbed into his body. Although lethal injections typically take about 10 minutes or so to kill an individual, Lockett's procedure lasted for 43 minutes, during which he reportedly writhed, groaned, and clenched his teeth before officials closed the blinds from witnesses' view.
"There is a real and immediate threat that the defendants will attempt to execute the plaintiffs using the same drugs and procedures used in the attempted execution of Clayton Lockett, or with similarly untried, untested and unsound drugs and procedures," the lawyers said, according to the Guardian.
Pointing to this execution, attorneys also declared it a "failure" that caused "severe pain, needless suffering and a lingering death."
A number of executions across multiple states were delayed following this messy death, including one in Oklahoma that was scheduled to take place just hours after Lockett's. That procedure is now slated to go forward in November. Many inmates have sued to force states to disclose exactly what drugs they will be using, as well as their source, but these efforts have generally failed in court.
Despite some delays – in May, RT reported that an Ohio judge suspended all executions in that state for two and a half months as its lethal injection process undergoes evaluation – two sentences were carried out earlier this month. A man in Georgia and another in Florida were executed using undisclosed drugs.