Oklahoma set to resume executions 9 months after botched attempt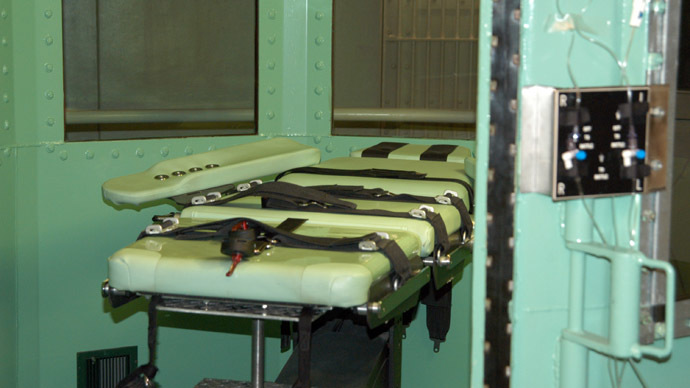 The state of Oklahoma is set to execute its first death row prisoner since a bungled lethal injection in April 2014 left an inmate writhing in pain for 43 minutes before dying of a heart attack.
Charles Warner's lethal injection is scheduled for 6:00 p.m. CST on Thursday. On Monday, a federal appeals court rejected Warner's appeal to delay his execution. Warner has asked the US Supreme Court for a reprieve, according to NBC News.
Warner was convicted of the 1997 rape and murder of an 11-month-old girl, whose mother, Shonda Waller, has said she doesn't believe Warner should be put to death.
"I don't see any justice in just sentencing someone to die," Waller told KFOR. "To me, the justice is in someone living with what they have done to you to your family, and having to live with that the rest of their life knowing they will never get to walk out those doors."
"I don't hate him. I have forgiven him." - Baby's Mom Says Killer Charles Warner Should Live #haltexecutions... http://t.co/oOa8WZu27S

— OK-CADP (@OKCADP) January 15, 2015
Three other Oklahoma death row inmates are scheduled to die by early March, according to reports.
Originally, Warner was to be executed the same day as Clayton Lockett, subject of the disastrous lethal injection less than one year ago.
Complications with Lockett's execution put Warner's death on hold as state officials scrambled to explain whether its lethal injection process did not put inmates through "unconstitutional pain and suffering," as prisoners and advocacy groups have argued in legal filings.
Lockett died after doctors burst a vein in his body administering a controversial cocktail of drugs. As RT reported last year, the drugs leaked out of his vein as a result, and an unknown amount was absorbed into his body.
Although lethal injections typically take about 10 minutes or so to kill an individual, Lockett's procedure lasted for 43 minutes, during which he reportedly writhed, groaned, and clenched his teeth before officials closed the blinds from view of witnesses, including media on hand. Lockett eventually died of a heart attack.
"It was a horrible thing to witness," Lockett's attorney, David Autry, told the Associated Press at the time. "This was totally botched."
READ MORE:Amnesty International slams US in death penalty report for executing mentally disabled prisoners
In June 2014, 21 death row inmates sued the state after Lockett's bungled execution, questioning the use of the sedative midazolam.
The lawsuit accused Oklahoma state officials of failing to confer with experts as they developed new execution protocols, insisting that the drug combinations they settled on are not appropriate for lethal injections.
"The plaintiffs are not challenging their convictions or sentences of death in this action," the complaint read. "They are challenging only the way in which their sentences of death will be carried out by the defendants."
According to the Associated Press, the inmates extended their challenge to the way drugs are developed, claiming that chemicals manufactured at compounding pharmacies – which are not regulated as heavily by the Food and Drug Administration compared to other facilities – should not be used without a court-ordered review. Many states have turned to compounding pharmacies for execution-related drugs since European pharmaceutical companies, their chief suppliers, have banned sales to correctional departments over moral objections to capital punishment.
"By attempting to conduct executions with an ever-changing array of untried drugs of unknown provenance, using untested procedures, the defendants are engaging in a program of biological experimentation on captive and unwilling human subjects," the inmates' lawyers said in court, according to AP.
READ MORE:US prisoner executions drop but are more painful, brutal
Lockett's mishandled execution triggered an investigation, ordered by Gov. Mary Fallin, which resulted in new protocols for the state's lethal injections. In October, the state concluded that as much as five times the amount of midazolam administered to Lockett will be the new norm for executions.
Oklahoma corrections officials also said the new rules will require more training of prison staff and members of execution squads while outlining contingency plans in case of equipment malfunction or a problem with an inmate's medical condition.
The state said it would also reduce the number of media witnesses allowed at executions from 12 to five.
The Oklahoma Department of Corrections Director Robert Patton told the Board of Corrections last Thursday that prison staff have worked "very hard" to prepare for Warner's execution.
Midazolam use during executions has been labeled "experimentation" by experts, who have criticized the drugs ongoing use in lethal injections.
"Whatever drug Oklahoma and other states decide to use to kill prisoners, they should abandon the barbaric use of paralyzing drugs entirely," Mark Heath, anaesthesiologist and lethal injection expert at Columbia University, wrote Wednesday.
"If the state claims that midazolam will produce a smooth, peaceful, humane death, then they should be willing to allow witnesses and the courts to observe the process without the opacity of paralysis. If states can't be confident that midazolam will produce a smooth and rapid death – and they shouldn't be, given the experience so far – they shouldn't be using it at all."
Also on Thursday, the state of Florida is set to kill death row inmate Johnny Kormondy. Like Oklahoma, Florida has also received scrutiny for its use of the controversial drug cocktail during executions.
You can share this story on social media: