More Americans say Obama 'not tough enough' on foreign policy - poll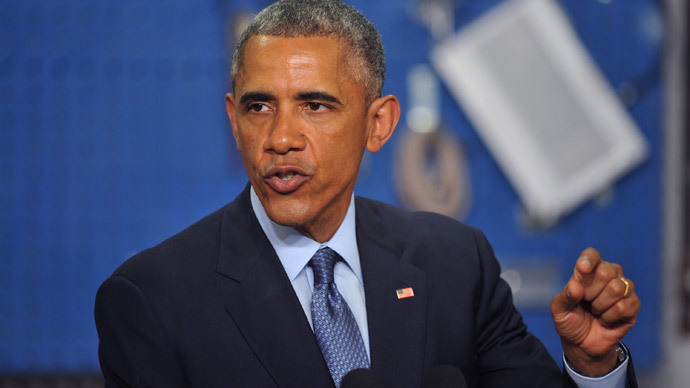 According to a new study by a leading US polling center, an increasing number of Americans – mostly from the political right – say Barack Obama has gone soft on foreign policy and national security.
Since 2012, the number of Americans who say Obama's foreign policy is "not tough enough" has jumped dramatically, according to findings from the Pew Research Center.
READ MORE:Obama's approval rating crashes among troops, rises with public
In 2012, 41 percent of Americans said Obama was not doing a good job on the foreign policy front. One year later, in November 2013, that figure had jumped 10 points to 51 percent.

The latest survey indicates that 55 percent now say Obama has gone weak on directing America's foreign policy, although much of that number is made up of right-wing voters.
71% of Republicans say strengthening the military should be a top priority; just 41% of Democrats agree http://t.co/jnAwqatMsI

— Pew Research Center (@pewresearch) January 15, 2015
Eighty-nine percent of Republicans have a negative view of Obama's foreign policy record. Among those Americans who describe themselves as "conservative," the figure ticks upwards to 92 percent.

In total, 55 percent believe that Obama has performed poorly abroad, while just 37 percent say his approach is correct. Five percent say he is too tough.
READ MORE:Secret Service removes 4 senior officials, is 'starved for leadership'
Age tends to play a role in the results, with older Americans more likely to say America's first black leader is not tough enough in foreign affairs.

The Pew survey also found that about 50 percent of the population consider Obama to be a liberal, while 37 percent say he is "middle of the road" politically. Just 12 percent describe him as conservative.
You can share this story on social media: