US judge declares mistrial in white police chief's shooting of unarmed black man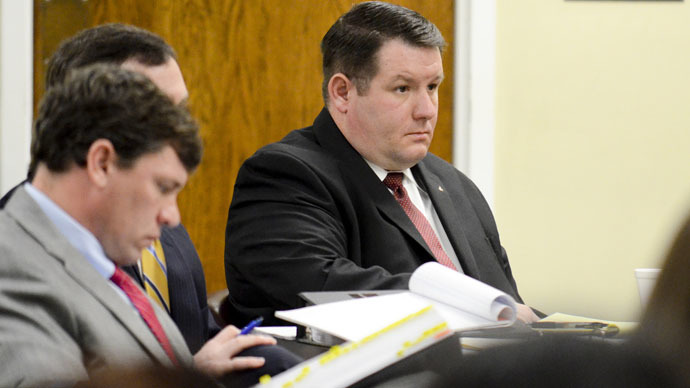 A South Carolina judge has declared a mistrial in a case of a former small town police chief charged with the murder of an unarmed black man outside a police station in 2011.
Circuit Judge Edgar Dickson dismissed the jury after they remained deadlocked for nearly 12 hours on Tuesday in the trial of Richard Combs, who was accused of shooting Bernard Bailey three times in May 2011, AP reported.
READ MORE: New Mexico police officers face murder charges in shooting death of homeless man
The jury had three options: convict Combs of murder, convict on a lesser charge of voluntary manslaughter, or acquit him.
The final vote was 9-3 guilty, but it was unclear whether it was for murder (30 years behind bars without parole) or voluntary manslaughter (two to 30 years in prison).
READ MORE: Retrial begins for Detroit cop who killed 7-year-old in 'Reality Show Shooting'
In his hour-long argument, the prosecutor said: "[Richard Combs] thought he got away with it because he wears a badge. Prove him wrong." He added that the former police chief believed his job could defend him from any accusations, and frequently changed his story, according to the evidence.
Some family members of Bernard Bailey were in tears leaving courtroom. #wis10#CombsTrial

— Chad Mills (@ChadMillsWIS) January 13, 2015
The shooting happened when Combs, 38, was trying to arrest Bailey, 54, on an obstruction of justice warrant that prosecutors considered to be trumped up. According to the facts, presented by the prosecution, Bailey was trying to give up – his foot was on the brake when he died.
"I'm going to take a little time, but we're going forward," Prosecutor David Pascoe told AP. "We just had three jurors we couldn't convince."
READ MORE: Mistrial for cop who blew up woman's eye balls with pepper spray
Combs' attorney Wally Fayssoux said: "We're disappointed we didn't get a result, but I think both sides feel that way."
Combs is holding the arrest warrant he retrieved that day. It was for obstruction of justice to Bernard Bailey. pic.twitter.com/GycHTaHuKf

— Colby Gallagher (@ColbyKGallagher) January 9, 2015
Fayssoux said the shooting had nothing to do with race, and was self-defense. The police officer had "no option but his gun," and feared for his life, Fayssoux said.
A conflict between the two men began seven weeks earlier, when Combs stopped Bailey's daughter for a broken taillight. On the day of her trial, Combs tried to arrest Bailey without asking for help from sheriff's deputies and followed him to his truck, where he fired three shots into Bailey.
The trial has attracted national attention, coming soon after the recent cases of unarmed black men shot by police, including that of Eric Garner and Michael Brown.
You can share this story on social media: