Judge extends restrictions on tear gas use amid Ferguson protests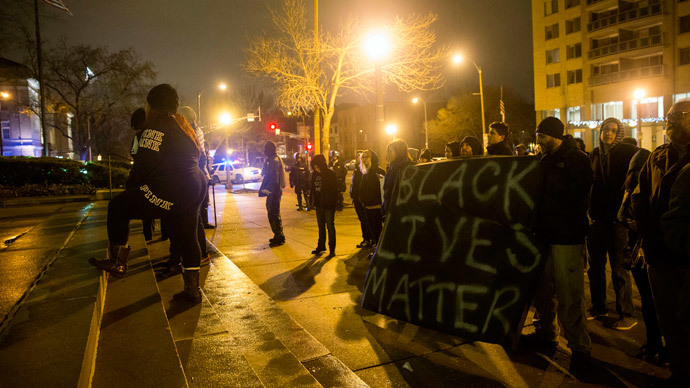 A federal judge has extended a restraining order regarding use of tear gas in Ferguson, Missouri as part of a lawsuit against local and state law enforcement that alleges use of the chemical agent violated protesters' constitutional rights.
US District Judge Carol Jackson was to hear evidence on Tuesday in the case, but decided instead to extend the temporary restraining order for 45 days, according to KSDK.
Last month, Jackson ordered St. Louis-area police to grant warnings before firing tear gas and pepper spray in order to give crowds "reasonable" time to disperse.
The order was extended Tuesday after attorneys for both law enforcement agencies and protesters said they were in settlement negotiations. The temporary order will stay in effect until a settlement is decided or if Jackson deems that the order should become permanent.
The two sides "are in good-faith settlement discussions," Denise Lieberman, attorney for the protesters, told the judge. Michael Hughes, an attorney for St. Louis County Police Chief Jon Belmar, said the discussion rests on devising policies that must be approved by boards and elected officials that oversee the city and county police forces, as well as the Missouri Highway Patrol.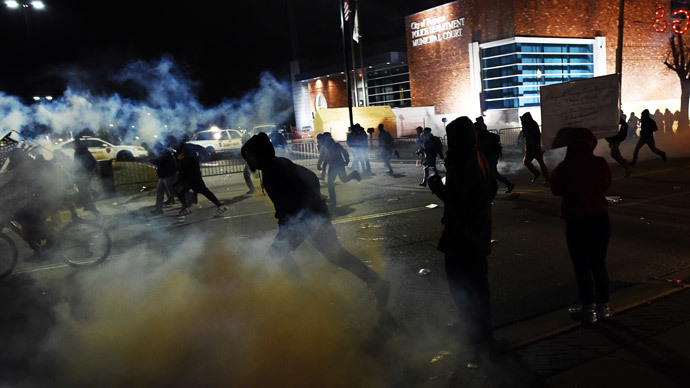 The December ruling came after court arguments in a lawsuit against local and state law enforcement officials that stemmed from police action in Ferguson, a suburb in St. Louis County, and in areas of St. Louis city on November 24, following a grand jury decision not to indict Darren Wilson, a white former Ferguson police officer who killed unarmed black teenager Michael Brown in August.
The fatal shooting triggered months of protests and civil unrest, both locally and nationwide, over the case and, in general, racial profiling, police brutality, and race- and class-based inequality within the American legal system.
The plaintiffs said that crowds, including children and elderly people, were fired on by police with tear gas cannisters without warning, were boxed in by police without means to disperse, and that police failed to wear proper identification.
Police used tear gas "in a manner designed to inflict pain and anguish rather than accomplishing any legitimate law enforcement objective," the plaintiffs alleged.
The six plaintiffs include a coffee shop owner; two area activists; a legal observer; a professor from St. Louis University; and a college student. They called for a temporary restraining order against St. Louis City Police Chief Sam Dotson, St. Louis County Police Chief Jon Belmar, and Missouri Highway Patrol Captain Ron Johnson.
In court last month, police officials said smoke and tear gas were used used to protect the safety of officers and to prevent property destruction, particularly in an area of south St. Louis city.
Jackson wrote after last month's hearing that evidence "establishes that law enforcement officials failed to give the plaintiffs and other protesters any warning that chemical agents would be deployed and, hence, no opportunity to avoid injury."
While calling for police to give adequate warning before firing tear gas, Judge Jackson did not side completely with conditions sought by the plaintiffs, including one seeking an order that tear gas be used strictly as a "last resort to prevent significant threats to public safety."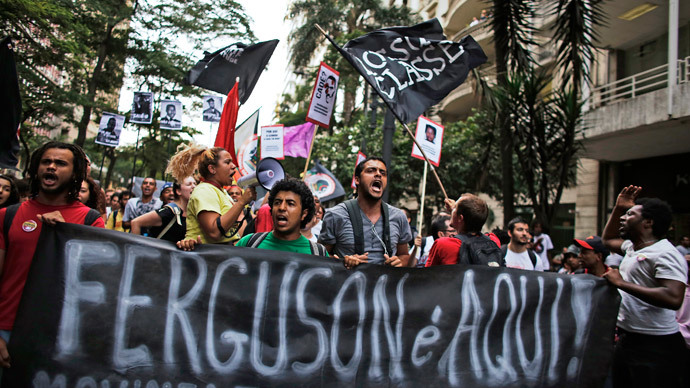 You can share this story on social media: