'Death warrant to our environment & people': Native Americans say no to Keystone XL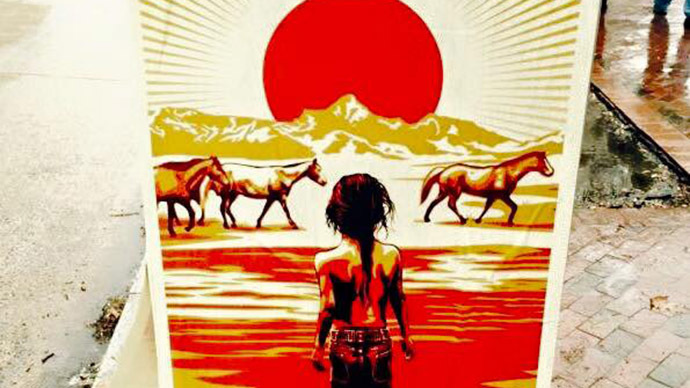 Dozens of Native Americans have descended on Washington DC on the first weekend of 2015 to stage a protest in front of the White House against the Keystone XL oil sands pipeline, which they call a disastrous "death warrant" to the environment and people.
The "No to KXL rally", organized by Native American leaders and environmental groups, paraded in the Lafayette Square against the pipeline that would channel oil from the Canadian tar sands through to the US to refineries in Texas.
"Keystone XL Pipeline is not in the national interest, has the potential to contaminate the nation's largest freshwater aquifer, and puts the lives of all people who live along its path in serious danger," Native Americans said in a statement.
READ MORE: Passing Keystone pipeline 'an act of war,' Sioux tribe president tells RT (VIDEO)
Calling the construction a "death warrant to our environment and to the people," dozens gathered on Saturday in an effort to make their voices heard.
Indigenous leaders have come to DC to stop #keystoneXL#NoKXLpic.twitter.com/KayQwsHEVf

— Chesapeake Climate (@CCAN) January 3, 2015
The movement fears that the Republican dominated Congress, which reconvened on Saturday, will rapidly bring KXL bill up for a vote and send it to the president's desk for approval.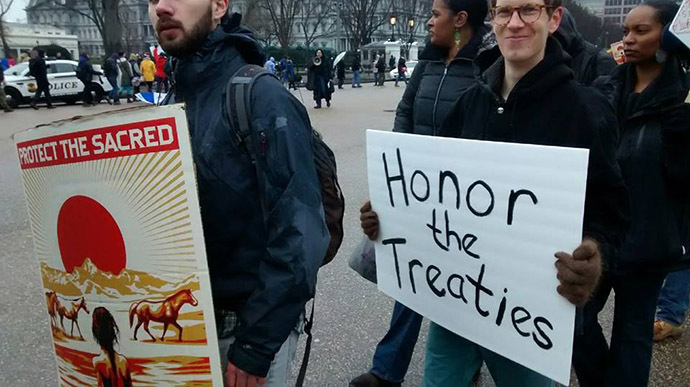 However, many still question whether the president will veto the bill, sending it back to the Senate to get 2/3 approval, or 67 votes to overcome that barrier.
READ MORE: Keystone XL pipeline does not benefit Americans – Obama
Next week, the South Dakota Public Utilities Commission is expected to address the possible re-approval of the portion of the Keystone XL pipeline that would run through the state, Associated Press reports. The opponents of the project are planning protests in three SD cities – in Rapid City and Sioux Falls on Monday and in Pierre on Tuesday.
Outside the White House calling on @BarackObama to reject #keystoneXL#NoKXLpic.twitter.com/tgDK8qGQQF

— Chesapeake Climate (@CCAN) January 3, 2015
The project would transport 830,000 barrels of oil per day from the tar sands of Alberta, Canada down to Nebraska. Over the last decade, oil companies have started extracting oil from Alberta's tar sands, but the gooey mix of sand, clay and oil is difficult to ship to refineries to turn it into usable fuel. The pipeline would help by offering a connection to refineries in Texas. Labor unions support the project because it would bring 42,000 jobs over its two-year construction period, with just 35 permanent jobs.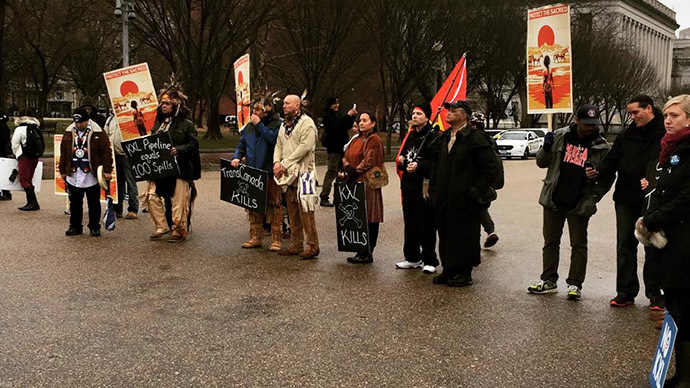 Environmental groups meanwhile say producing oil from Canada's tar sands is energy-intensive and will add 17 percent more carbon dioxide than regular oil production over the project's life-cycle, exacerbating global warming. Opponents are also concerned that the pipeline will put nearby communities at risk of oil spills and contaminations of water supplies.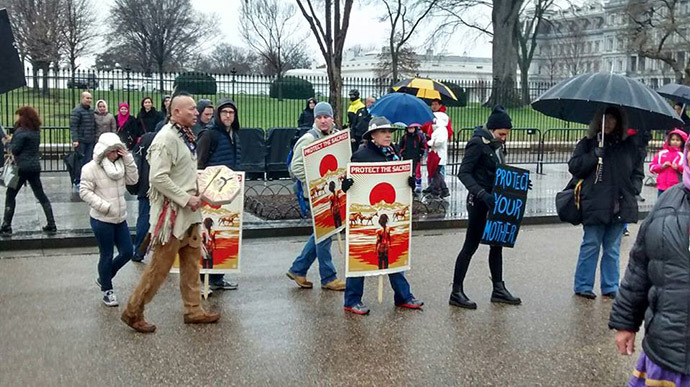 You can share this story on social media: