Obama: Keystone XL pipeline does not benefit Americans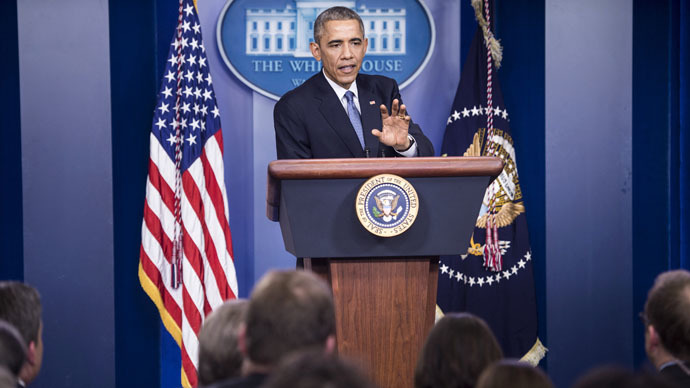 Republican leadership in Congress has said authorizing the Keystone XL pipeline will be its first order of business next year, but President Barack Obama said the project would be of small benefit to Americans.
During his year-end press conference, President Obama said building the Keystone XL pipeline – which would run from the Canadian tar sands into the United States – would not lead to lower gasoline prices for Americans. Additionally, Obama said it would create a couple of thousand temporary jobs until construction is completed, but the project would mainly benefit Canadian oil companies that need to get their oil to the Gulf of Mexico in order to see it on the world market.
READ MORE:Canada pressures US to pass Keystone XL as falling oil prices threaten project
"At issue in Keystone is not American oil. It is Canadian oil that is drawn out of the tar sands in Canada," said the president. "That oil currently is being shipped out through rail or trucks, and it would save Canadian oil companies and the Canadian oil industry an enormous amount of money if they can simply pipe it all the way through the United States down to the Gulf."
He said the pipeline is "not even a nominal benefit for US consumers."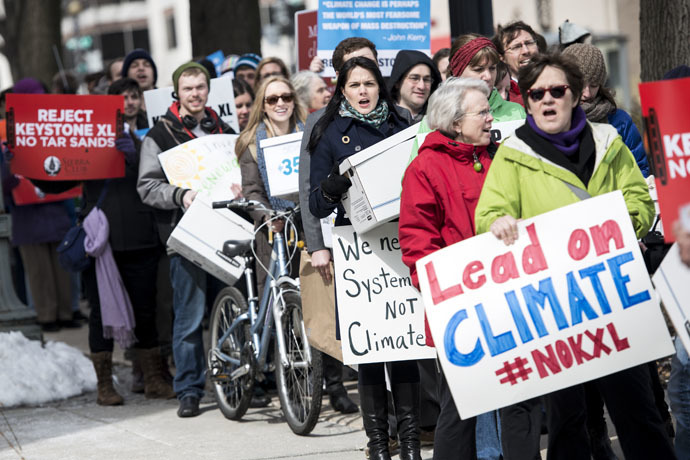 Obama said if the United States were rebuilding its roads and bridges around the country, something that Congress could authorize, that would create hundreds of thousands, if not millions of jobs.
READ MORE:Passing Keystone pipeline 'an act of war,' Sioux tribe president tells RT (VIDEO)
Obama also said there is still a ways to go on the authorizing the project. A Nebraska court judge has to determine whether the new path for the pipeline is appropriate and only then can the State Department have the information it needs to make its decision.
"I think there's a tendency to really hype this thing as some magic formula to what ails the US economy, but it's hard to see on paper where exactly they're getting the information from," said the president.
Obama hits Keystone again but declines to threaten veto http://t.co/swg5Kqcg4B | AP Photo pic.twitter.com/hfDfVhvK2n

— POLITICO (@politico) December 19, 2014
One of the president's main concerns is whether the project will "significantly exacerbate" carbon-dioxide emissions.
READ MORE:Keystone XL pipeline bill fails to pass US Senate by 1 vote
Incoming Senate Majority Leader Mitch McConnell, (R-Ky.) reaffirmed plans to make approving the Keystone XL pipeline, which would run from Canada to Texas, the first order of business in Congress' new session.
The US Senate failed to fast-track the Keystone XL pipeline project in its closing session this year, falling one vote short of breaking a filibuster. Next year, however, Republicans will control both chambers of Congress, making its passage more likely. Obama has not said whether or not he would veto legislation in the event it reaches his desk.
You can share this story on social media: