Passing Keystone pipeline 'an act of war,' Sioux tribe president tells RT (VIDEO)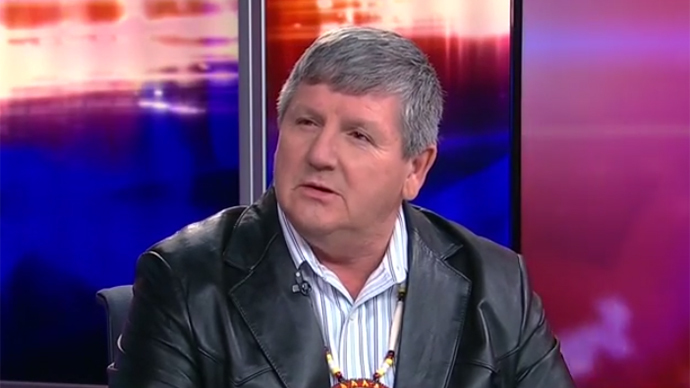 The President of the Rosebud Sioux Tribe of South Dakota is no fan of the Keystone XL oil pipeline, telling RT's Ben Swann that congressional authorization of the project would be "an act of war against our people."
In fact, Sioux tribe president Cyril Scott said the pipeline would cut right through the "sovereign nation" of the Native American tribe in South Dakota. The House of Representatives passed a measure last week to fast-track the project, provoking a strong response from Scott.
"The House has now signed our death warrants and the death warrants of our children and grandchildren," Scott said following that vote. "The Rosebud Sioux Tribe will not allow this pipeline through our lands," said Scott. "We are outraged at the lack of intergovernmental cooperation. We are a sovereign nation and we are not being treated as such. We will close our reservation boarders to Keystone XL. Authorizing Keystone XL is an act of war against our people."
House votes #KeystoneXL Sicangu Lakota Oyate "We are sovereign nation, this act of war" http://t.co/GJGsjK02PD#NoKXLpic.twitter.com/AinSomnYww

— Tommy (@MagicZoetrope) November 17, 2014
On Tuesday, the Senate missed by one vote the votes necessary to approve construction of the Keystone XL pipeline. With 59 aye votes (14 Democrats and 45 Republicans), lawmakers failed to break a filibuster and send the proposal to President Obama's desk.
READ MORE: #NoKXL: Thousands march in D.C. against Keystone pipeline
However, Republican Senator Mitch McConnell (Ky.) said the project will be back for a vote in January, when conservatives take control of the chamber.
If the government does approve Keystone, Scott said his people will resist.
"We're going to do everything within our powers to protect our homelands, our people, and as I said, our children and grandchildren – your children and your grandchildren," he said.
Native American Tribes Ready to Go to War to stop #Keystone#Tarsands Pipeline http://t.co/DuqhJzdH0A#cdnpoli#nokxlpic.twitter.com/P1fWjvjEUm

— Mike Hudema (@MikeHudema) November 20, 2014
He added that the Rosebud Sioux had been protesting in a spirit camp for seven months and they are protecting the land in South Dakota.
"Most of all, people don't understand the Ogallala Aquifer is the second biggest water aquifer in the world," Scott said. "It supplies five or six states with water in the United States, and its level in some places is only six feet underground."
READ MORE:Canada approves pipeline to Asia but faces enraged opponents
The Keystone XL pipeline will be buried underground at depths of four feet, and there are concerns about the pipeline springing leaks. Scott says it is not a question of if it breaks it is a question of when it breaks.
"The aquifer collects three percent of all rainfall. Every hundred gallons of tar sand oils is going to take a couple hundred gallons of chemically treated water in that pipe to come down – and when that break happens we are going to receive three percent into the aquifer, and it is going to poison your children and our children," said Scott.
The treaty lands from seven indigenous tribes encompass the whole of South Dakota, and Scott said the tribe has its own laws and constitution that don't pertain to outsiders, so the workers involved with working on the pipeline would potentially face charges under the tribe's laws. Scott said no amount of money would let them agree to the Keystone project going through their lands.
READ MORE:Obama administration delays decision on Keystone XL pipeline again
During the Senate vote on Tuesday after Democratic Sen. Elizabeth Warren announced the tally, a man reportedly with the Lakota Tribe of South Dakota burst out in song, followed by protesters who called out Democrats voting in support of the pipeline.
After Tuesday's vote, Republicans vowed to immediately bring the bill back in January, when they will hold the Senate majority. President Obama has said he will veto the bill.
You can share this story on social media: