Canada approves pipeline to Asia but faces enraged opponents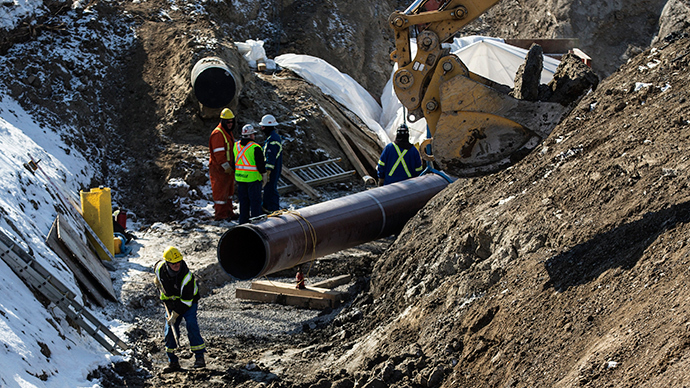 The Canadian government has given thumbs up to the 'Northern Gateway', a $6 billion oil pipeline project headed by Enbridge Inc. which will supply oil and petroleum products to meet growing Asian demand.
The proposed pipeline would on average transport 525,000 barrels per day from oil rich northern Alberta 1,777 kilometers across two provinces to the Pacific port town of Kitimat in British Columbia.
The new pipeline will be able to deliver Canadian oil to energy hungry Asia, mainly China.

Residents of northwest British Columbia (BC) see the project as a lose-lose for the province, which won't directly benefit from the transmission, but will suffer environmental risks from the construction which could taint the pristine water systems in the area. Groups like LetBCvote are advocating for BC residents to have a bigger say in the matter. Another petition asks the company only to go ahead with the project if they have "100% consent'.
Local officials are already demanding oil and gas royalties from the parts of the pipeline that run through their areas.
Enbridge says there are benefits for BC and promises the project will generation $1.2 billion in tax revenue for the province and $4.3 billion in labor-related income in a four year period.
An estimate by Enbridge suggests the pipeline will contribute more than $300 billion to Canada's gross domestic profit in the next 30 years.
Prime Minister Stephen Harper's Conservative government allowed the project to move forward on the condition it fulfill 209 conditions that were made by a regulatory review panel last December. The first regulatory process began with the National Energy Board in May 2010.
First Nations and environmental groups are already planning legal hurdles to delay or stop the project. Those against the project have 15 days to file formal objections. However, transporting oil by rail has dangerous aspects, which Canadians in the Alberta were reminded of last fall when a train derailed killing 13 and damaging surrounding homes.
Canada's largest pipeline company has its hands full with $33 billion (CAD$36 billion) worth of development projects through 2017, including a project to transport crude to refineries in Quebec, Bloomberg News reports.
Already protestors have gathered in many of Canada's main city to denounce the decision, which they claim most Canadians are against.
#enbridgepipeline#northerngateway protest downtown Vancouver pic.twitter.com/rHKQxpXtLx

— Anu Sandhu (@Anouxuna) June 18, 2014
Keystone's twin
Across the border, the American government is working to get the Keystone XL project approved by Congress, which has proved a difficult task. On April 18, the Obama administration said it is delaying a decision on the 1,897 km pipeline that would transport crude from Alberta to Nebraska and link up with other active pipelines in the southern US and Midwest.
Supporters herald it as a move towards better export diversification, energy security, and some pundits say it is an environmental disaster waiting to happen.
The pipeline would carry an average of 830,000 barrels of oil per day.
Native American groups staged a six day protest against the pipeline, urging President Obama to 'Reject and Protect' the Keystone Pipeline.
You can share this story on social media: