Airstrikes against Islamic State top $1bn, kill over 1,100 people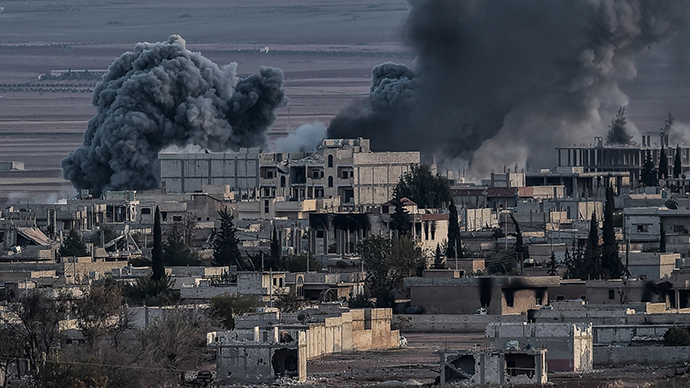 US and coalition airstrikes against the Islamic State in Syria have killed nearly 1,200 people ‒ including 52 civilians ‒ and wounded at least 800 others at a cost of more than $1 billion since the bombings began in September.
The Syrian Observatory for Human Rights (SOHR) said Thursday that airstrikes in Syria over the last three months have killed 1,046 fighters from the Islamic State – most of whom were non-Syrian fighters.
An additional 72 jihadists from Jabhat al-Nusra, a rival group, were killed in bombing raids against their headquarters in the western countryside of Aleppo and the northern countryside of Idlib.
Of the 52 dead civilians, eight were women and five were children. They died during coalition airstrikes on oil fields and refineries in the al-Hasakah and Der-Ezzor countrysides, as well as al-Raqqa, Menbej – located northeast of Aleppo – and the Idlib countryside.
"We, in SOHR, believed that the real number of casualties in ISIS is more than our number, because there is absolute secrecy on casualties and due to the difficulty of access to many areas and villages that have witnessed violent clashes and bombardment," the group said in a Tuesday statement, expressing "strong condemnation" of the civilian deaths as a result of coalition activities.
While casualty figures are impossible to verify, the Britain-based SOHR is considered to be the most reliable resource "in a sea of misinformation" from both sides of the conflict, NPR reported.
Bombing began in Iraq against the Islamic State on August 8, and in Syria on September 23. The combined campaigns, called 'Operation Inherent Resolve,' has a total price tag of $1.02 billion, with a daily cost of $8.1 million through December 11, the Defense Department reported.
With the cost of the fight against the Islamic State crossing the billion-dollar mark, the operation will have its own inspector general to oversee US government spending, The Hill reported. Jon T. Rymer, the Pentagon's inspector general, will serve as the lead inspector general for Operation Inherent Resolve, his office announced Monday. He will submit biannual reports to Congress, with the first to come in April 2015.
Last week, Defense Secretary Chuck Hagel authorized the deployment of 1,300 additional US troops to Iraq, according to The Hill. The group is part of the 1,500 servicemembers that President Barack Obama authorized in November.
The previously announced total cost of the airstrike campaign was approximately $424 million, according to Pentagon spokesman Rear Admiral John Kirby. He averaged the DoD's spending to be around $7.6 million a day. That number rose because of the number of airstrikes and related costs, a defense official told AFP.
The US and its partners conducted 31 new airstrikes on the Islamic State on Friday ‒ 15 in Iraq and 16 in Syria.
In Iraq, strikes took place near Al Asad, Sinjar, Mosul, Al Qaim, Bayji, Kirkuk, and Tal Afar. Bombs took out Islamic State weaponry (including mortar and rocket systems), as well as eight tactical units, two large Islamic State units, two fighter positions, several vehicles, and a storage containers, the Pentagon reported.
In Syria, the coalition launched strikes near Kobani, Al Hasakah, and Ar Raqqah, destroying three Islamic State buildings, three staging areas, a drilling tower, 19 fighting positions, and three vehicles. Airstrikes also hit two large and four tactical Islamic State units.
In total, the United States carried out 488 airstrikes in Syria through December 15, according to US military data published by Reuters.
Coalition nations conducting airstrikes in Iraq include the US, Australia, Belgium, Canada, Denmark, France, the Netherlands, and the United Kingdom. Those conducting bombing raids in Syria include the US, Bahrain, Jordan, Saudi Arabia, and the United Arab Emirates.
You can share this story on social media: