US-led airstrikes kill more than 500 militants, 32 civilians – report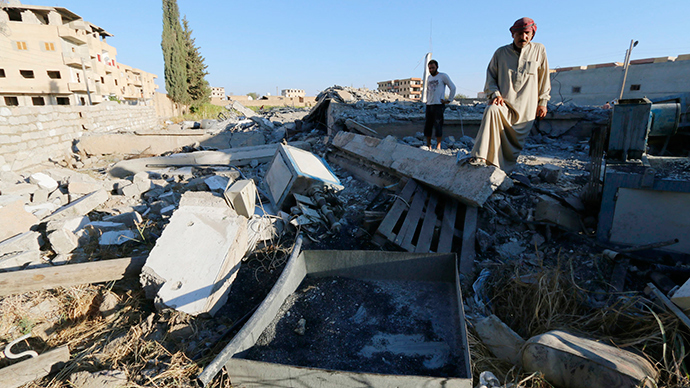 ​United States and coalition airstrikes in Syria over the last month have killed more than 500 jihadists, of both Islamic State and Al-Qaeda affiliated groups, and 32 civilians, according to a human rights monitor.
The Syrian Observatory for Human Rights said Thursday that airstrikes in Syria, which began last month, have killed 464 fighters for Islamic State, the extremist group that has come to control large areas of Syria and Iraq since rising to prominence during the former nation's civil war. Bombings have also killed 57 members of Nusra Front, an Al-Qaeda affiliate.
The Britain-based Observatory, which relies on various sources in the region for its information, said 32 civilians have died in the US-led attacks in Syria. Six children and five women are included in the civilian death toll, the group announced.
The "vast majority" of militants killed amid the strikes in Syria were foreign fighters, who had traveled to the war-torn nation to fight with Islamic State (IS, also known as ISIS and ISIL) or Nusra Front against Syrian President Bashar Assad's forces, Observatory director Rami Abdel Rahman told AFP.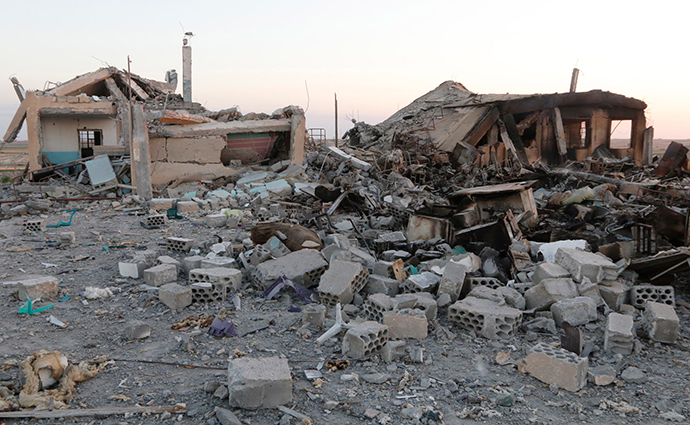 The fight against IS has so far cost Washington approximately $424 million since the start of the operation on August 8, when strikes in Iraq began, according to the Pentagon spokesman, Rear Admiral John Kirby. He averaged the defense body's spending to be around $7.6 million a day.
Meanwhile, Kurdish fighters again defended the Syrian town of Kobane on Thursday against an ongoing IS offensive. AFP reported "heavy gun and mortar fire" in parts of Kobane, not far from the border with Turkey.
Coalition airstrikes expanded into Syria in September, and assisting Kurds in embattled areas like Kobane has become a priority. There, for example, the US has airdropped munitions and aid supplies to counter the IS assault.
US Central Command reported that 15 airstrikes were conducted in Syria and Iraq in the last two days, including four in Kobane.
15 air strikes in Iraq and Syria. 4-Kobani, 2-oil holding tanks, 4-Mosul Dam, 1-Bayji, 4-Fallujah. pic.twitter.com/WpD8DxWByO

— Maj. Brian Fickel (@CENTCOMCGPAO) October 23, 2014
Kobane Kurds, though, are exhausted from the fight and are in need of reinforcements, AFP reported. Iraqi Kurdish leaders said Wednesday that they are sending peshmerga fighters to help since Turkey said this week it would facilitate their travel to Kobane.
According to reports, Turkish President Tayyip Erdogan said Thursday that he expected around 200 peshmerga fighters, equipped with heavy weaponry, to make the trek to Kobane.
In northern Iraq, IS militants have again surrounded Mount Sinjar, where the group trapped thousands of civilian members of the Yazidi religious minority this summer, sparking the Western bombing campaign against extremists.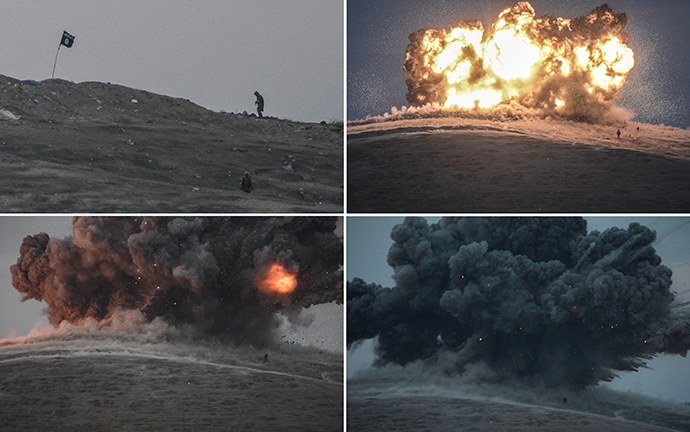 IS is "trying to climb the mountain on foot to fight the Yazidi volunteers," said Dawud Jundi, a commander of forces defending Mount Sinjar, according to AFP.
The renewed assault on Sinjar began on Monday, as around 300 IS fighters attacked nearby villages before turning to the mountain.
"We don't have anything but light weapons," Jundi said, adding that on the mountain, "there are almost 2,000 families whose situations are very bad."
And in Baghdad, Shiites have been targeted in recent days with bomb attacks, AFP reported. On Wednesday, at least 28 people were killed by car bombs that went off near a maternity hospital and service station in Shiite areas of Baghdad.
You can share this story on social media: